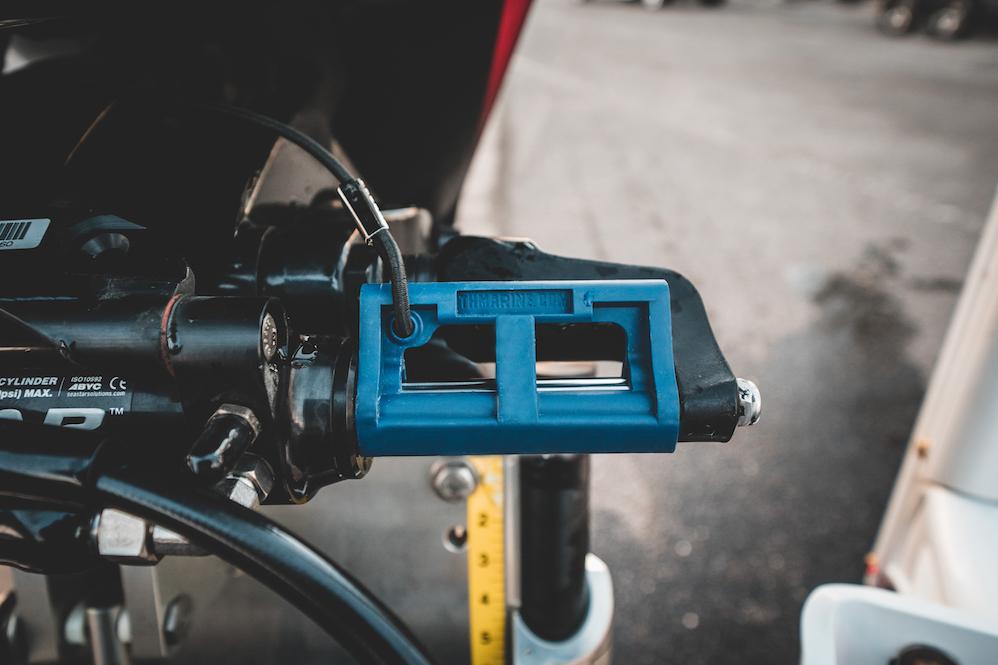 T-H Marine Introduces Redesigned Hydraulic Steering Lock
Huntsville, AL – August 6, 2019 – T-H Marine Supplies, LLC, of Huntsville, Alabama, announces the complete redesign and reintroduction of their STEER STOP Outboard Hydraulic Steering Lock. Using two stabilizer clips that attach to an outboard motor's hydraulic steering rams, STEER STOP works by keeping the engine centered and preventing damage that occurs when a motor swings left and right during transport. The new and improved STEER STOP is now available online and will also be available through a variety of retailers.
"The original STEER STOP paved the way, but it was time to make improvements so it could be even more reliable, more durable, and easier to use," said T-H Marine President and CEO, Jeff Huntley. "Now boaters will notice several ways the new STEER STOP stands apart from imitation and performs better than any other hydraulic steering lock on the market."
After introducing the STEER STOP in 2012 as the first hydraulic steering lock available for outboard motors, T-H Marine's product development team focused on how they could provide boaters with a product that they could count on for years to come. The resulting product would function similarly to the original STEER STOP, but it would be more robust, easier to grip, and better overall for keeping outboards from wandering when trailering.
To use the STEER STOP for your outboard motor equipped with hydraulic steering, center your motor and snap one STEER STOP clip on the left-side hydraulic steering rod and one on the right-side hydraulic steering rod. Once installed, STEER STOP will help keep your motor centered, reduce potential damage to the motor supports, and prevent the motor from "clunking" left and right.
With the new design, it's not only easier to install STEER STOP, it's also easier and safer for your hands when removing it. Simply grab the grip molded into the new clip and pull. For additional leverage, you may also pull on the tether cord.</p>
<p>Since distribution and sales are in full swing, boaters can expect to see increased availability and information from their choice of retailers, online stores, or directly from T-H Marine at thmarine.com/steerstop.
# # # # #
About T-H Marine
T-H Marine is celebrating its 44th Anniversary of business and has grown to be one of the largest manufacturers of boating and fishing accessories in the U.S. T-H Marine provides parts to virtually every boat manufacturer in the country and distributes them through virtually every major distributor and retailer of boating and fishing products. To learn more about T-H Marine, please visit thmarine.com/about-us.
# # # # #
For More Information About the Redesigned STEER STOP Outboard Hydraulic Steering Lock
For additional information about the redesigned STEER STOP Outboard Hydraulic Steering Lock and other outboard motor products, please visit us at thmarine.com/outboardprotection or use the contact information provided below.
Contact: Derek Trovillion
Email: dtrovillion@thmarine.com
Phone (FOR MEDIA ONLY): 317-517-5435
For all customer service-related matters, please call (256) 772-0164 (Monday-Thursday 7am to 5pm CT) or visit us anytime at thmarine.com/help.