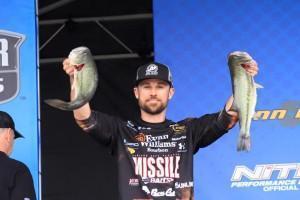 T-H Marine Talks with Pro Angler John Crews After Top 3 Finish
John Crews started big and ended strong in the Bassmaster Elite Series tournament on Lake Guntersville. We're proud of T-H Marine Pro Anglers like John, who give it all they've got, and we were particularly thrilled with his impressive showing here in Alabama.
When we talked with John this past week, here's what he had to say about his big finish and the momentum it would give him going into Toledo Bend.
T-H Marine: What can you tell us about your practice before the tournament?
John Crews: Practice was pretty tough but I developed two to three patterns that could catch 8-9 pound limits. I knew that was no good. I did find one area that had a few fish that were big ones, but it was only a few fish. I milked that area for half the fish I weighed in the tournament.
T-H Marine: What can you tell us about your pattern?
John: I had one area in the back of a creek and found one area on the main river. They both had big fish but were way different. The one constant was shad. The fish were really keyed into that shad spawn.
T-H Marine: Did anything change from practice?
John: Some of my small fish deals went away. One was still good and I had to use it on day 2. That one area with big ones held true.
T-H Marine: How did you prepare before you left for Alabama?
John: I am a creature of routine and prepare for each event very similar. Coming from another event was a little different but since I stunk it up in that event, I had good time to prepare.
T-H Marine: What were your key baits and rod/reel combo's?
John: I used a number of baits to get bit and they were all shad influenced. I used a few different topwater walking baits, a SPRO Bronzeye 65 frog, a Zoom Fluke, a Missile Baits Shockwave 4.25, and a white swim jig.
T-H Marine: What pieces of T-H Marine equipment were important on Guntersville and why?
John: Anytime the shad spawn in going on, I am big on the Hydrowave. I had it on Spawning Shad all morning. In mid day, I would switch to Schooling Blitz. I think it is key to give those fish a sound of what they want to hear.
T-H Marine: When you see set your sights on Toledo Bend, what are you looking for?
John: T Bend has been on fire this year. It seems like it might be in a post spawn funk deal but it is still T Bend. With the lake being up, I think shallow water is a huge factor but you can't rule out off shore fishing since that is where a lot of the giants live. It should be a lot of fun.
T-H Marine: What piece of T-H Marine equipment do you count on when you fish Toledo Bend?
John: With all the pressure that lake gets, I think the Eliminator trolling motor prop nut will help reduce that danger vibrations those bass might get spooked by. It also will be another Hydrowave factor tournament. I count on the Atlas, Hot Foot, and other T-H products every tournament.
For More Information About Pro Angler John Crews
To learn more about John Crews, his achievements, and his sponsors, visit his website by clicking here. You can also check out his favorite T-H Marine gear by browsing these pages:
HydroWave Electronic Fish Feeding Stimulator: http://thmarine.com/hydrowave
Eliminator Prop Nut: http://thmarine.com/g-force-eliminatortm-trolling-motor-prop-nut.html
Atlas Hydraulic Jack Plate: http://thmarine.com/th-marine-products/outboard-jack-plates/hydraulic-jack-plates/atlas-hydraulic-jack-plates
Hot Foot Top Load Foot Throttle: http://thmarine.com/hot-foot-pro-top-load-foot-throttle.html