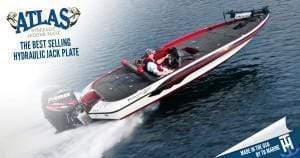 Atlas Jack Plate to be Top Prize Among Other Great Boating Products
Huntsville, AL - December 17, 2015 -- T-H Marine Supplies, Inc., of Huntsville, Alabama, is announcing the grand prize for their 12 Days of Christmas Giveaways event: their signature Atlas Hydraulic Jack Plate. This top of the line product will be given away along with 12 other types of fishing and boating products this Christmas season. Giveaway goods total at nearly $8,000 in retail value and T-H Marine is engaging its audience in a variety of ways to make the giveaway as fun as possible.
Each day brings a new prize announcement. At the time of this publication, T-H Marine has announced prizes including their Gear Grabbar Lure Holder and Tackle Organizer, Z-Launch Watercraft Launch Cord, G-Force Trolling Motor Handle & Cable, Eliminator Prop Nut & Silencer, Hotfoot Top Load Foot Throttle, LED Spreader Light,  G-Juice & Oxygenator Combination Pack, 2-Way Boat Alarm, Loc-R-Bar Storage Locking System, Kong Electronics Mount, and the Hydrowave Electronic Fish Feeding Stimulator as prizes. Boating enthusiasts and anglers are encouraged to check T-H Marine's social media daily for chances to enter, especially the T-H Marine Facebook page.
"People boat and fish because it gives them joy," T-H Marine's President and CEO, Jeff Huntley said. "And there's no better time to find ways to keep that joy going than during the holidays and winter months. With so many who have their boat in storage or kept inactive due to weather, we're working to keep that excitement going until the nicer days return."
Additional prizes include newly acquired product lines as well as longstanding favorites. From apparel to performance boating equipment, the boat gear giveaway has variety unlike anything T-H Marine has awarded before.
To enter, start by "Liking" T-H Marine on Facebook. Then look for official contest messages, stating the daily prize announcement and what is required to enter. Most entries will only require a comment on that day's Facebook post, but additional entries may be counted if an entrant likes the post and shares the post publicly. Entrants can also "Follow" T-H Marine on Twitter and "Follow" T-H Marine on Google Plus to get additional entries. Sharing and liking across each social media channel will then increase an entrant's chances at winning. T-H Marine Facebook page: https://www.facebook.com/thmarineteam
# # # # #
For More Information About Winning Boating Products With the 12 Days of Christmas Giveaways
T-H Marine is celebrating its 40th Anniversary of business and has grown to be one of the largest manufacturers of boating and fishing accessories in the U.S. T-H Marine provides parts to every boat manufacturer in the country and distributes them thru virtually every major distributor and retailer of boating and fishing products. As an integral part of our plan for growth and involvement, we welcome your inquiries! To learn more about T-H Marine, please visit and browse around www.thmarine.com, and if you would like more information about our boat gear giveaways for media purposes, please use the contact information provided below.
Contact: Luke Dunkin
Phone: 256-714-2304
Email: ldunkin@thmarine.com