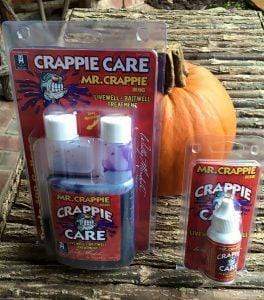 Announcement: Mr. Crappie Crappie Care Products are Now Available!
Huntsville, AL – November 16, 2016 -- T-H Marine Supplies, Inc., of Huntsville, Alabama announced today that the first of its Mr. Crappie brand products, Crappie Care, is in stock and available for shipment. (this follows previous announcements about the crappie care products partnership and a special line-up of HydroWave units)
T-H Marine's president, Jeff Huntley, stated, "T-H Marine is excited about our Mr. Crappie brand products. Wally Marshall, aka Mr. Crappie knows crappie and the crappie angler like no other. The Crappie Care product is specially formulated to keep your crappie and baitfish alive and healthy. We are excited that these products are available."
Wally Marshall, Mr. Crappie, added, "Hey Crappie anglers, it's here. The Mr. Crappie Crappie Care products by T-H Marine will keep your bait fresh and crappie alive and well all day long! Get your Crappie Care today!"
The Mr. Crappie Crappie Care product is a livewell and baitwell additive. It has been specially formulated for crappie and all types of baitfish. It is available in 1, 8, 64 and 128 ounce sizes.
Ask for T-H Marine Mr. Crappie Crappie at your local tackle store today.
T-H Marine is celebrating its 41st Anniversary of business and has grown to be one of the largest manufacturers of boating and fishing accessories in the U.S. T-H Marine provides parts to every boat manufacturer in the country and distributes them through virtually every major distributor and retailer of boating and fishing products. To learn more about T-H Marine, please visit http://thmarine.com/about-us.
# # # # #
For More Information About T-H Marine and Our Mr. Crappie Line of Crappie Care Products
If you would like more information about T-H Marine and our Mr. Crappie line of crappie care products, please use the contact information provided below.
Contact: Jimmy Mason
Phone: 256-772-0164
Email: jmason@thmarine.com
# # # # #
Also be sure to check out these articles about T-H Marine, Mr. Crappie, and HydroWave:
Announcing Our Mr. Crappie HydroWaves and Crappie Care Products
T-H Marine and Wally Marshall Team Up for a Mr. Crappie Line of Products