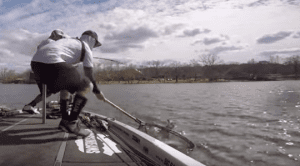 4 Big Reasons HydroWave is the Best Fishing Accessory for Any Fishing Fun
A few choice rods, a couple trays of lures, a bag of various soft baits, a trusty net -- what other fishing equipment do you find yourself packing for wherever you go fish? If a HydroWave fish feeding stimulator isn't on that list, you may want to reconsider it. Here's why the HydroWave is the best fishing accessory to complement any fishing trip.
1. HydroWave is Great for Fishing Anywhere
Pro Anglers like Kevin Van Dam, Ott Defoe, and many others have successfully used the HydroWave in tournaments, so it is no secret that HydroWave is most commonly used on bass boats. However, there's great reason to consider using it other places, too. You don't have to have your HydroWave installed alongside trolling motor equipment and fish finders. If you are willing to explore your options, you can have the right setup in any number of boats (or when you are using no boat at all!). This includes fishing from:
* Aluminum boats
* Jon boats
* Pontoons
* Kayaks
* Paddle boats
* Shore
* Ice
If we left out a location where you have successfully used your HydroWave, let us know! We would enjoy featuring you and your catches as you explore how HydroWave is the best fishing accessory for just about any boat.
2. HydroWave is Great for More than Just Pro Anglers
Most commonly, HydroWave is used by tournament anglers for prize-fishing. It is an easy addition to any aluminum boat or fiberglass bass boat and it is essential to getting the fish to bite so you can top the standings. However, we also recommend considering how HydroWave can make recreational fishing even more of a blast.
It's true that even a bad day fishing is better than a good day at work, but we want to help you see how much better it feels to have a good great day fishing. HydroWave is likely the best fishing accessory you can use to impress your friends and really show your kids or grand kids a good time with plenty of bites.
3. HydroWave isn't Limited by Time, Day, or Season
One of the greatest things about HydroWave is how we have seen it work through every time of day and every season. It helps that the unit is adjustable, so you can get the best match for the local preferences and feeding instincts of the fish. The intensity, the frequency, and the type of sounds it produces help with its adaptability.
Whether you are doing some late spring bream fishing, small mouth bass fishing in the fall, or fishing at any point in between, the HydroWave can increase your chances of running tight lines.
4. HydroWave Helps on Any Body of Water
HydroWave is very versatile and we keep working to make it better, too. Along with several expansion modules, we can help you appeal to more fish in more locations. Be sure to try HydroWave as you are:
* Fishing lakes
* Fishing reservoirs
* Fishing rivers
* Shore fishing along streams (and any shore)
* Saltwater fishing
* Ice fishing
For the best results, use your preferred means of scoping where the fish are hiding out and approach the area carefully. From there, it is all about testing baits that match their interests and pairing these with the HydroWave tones that get them biting.
Get the Best Fishing Accessory with the Most Bite for Your Buck
Still have questions about HydroWave? Contact us! And if you're ready to get fishing, check out our array of HydroWave products here:
Learn about the HydroWave Mini. A more compact, portable, and affordable version of the original HydroWave.
Check out our HydroWave Expansion Modules. Emulate the food your fish eat and target the big catches you can't wait to get on the line.
Get your boat rigged up right with the HydroWave H2. The HydroWave H2 is used by over 95% of professional anglers. You are sure to enjoy finding out why.