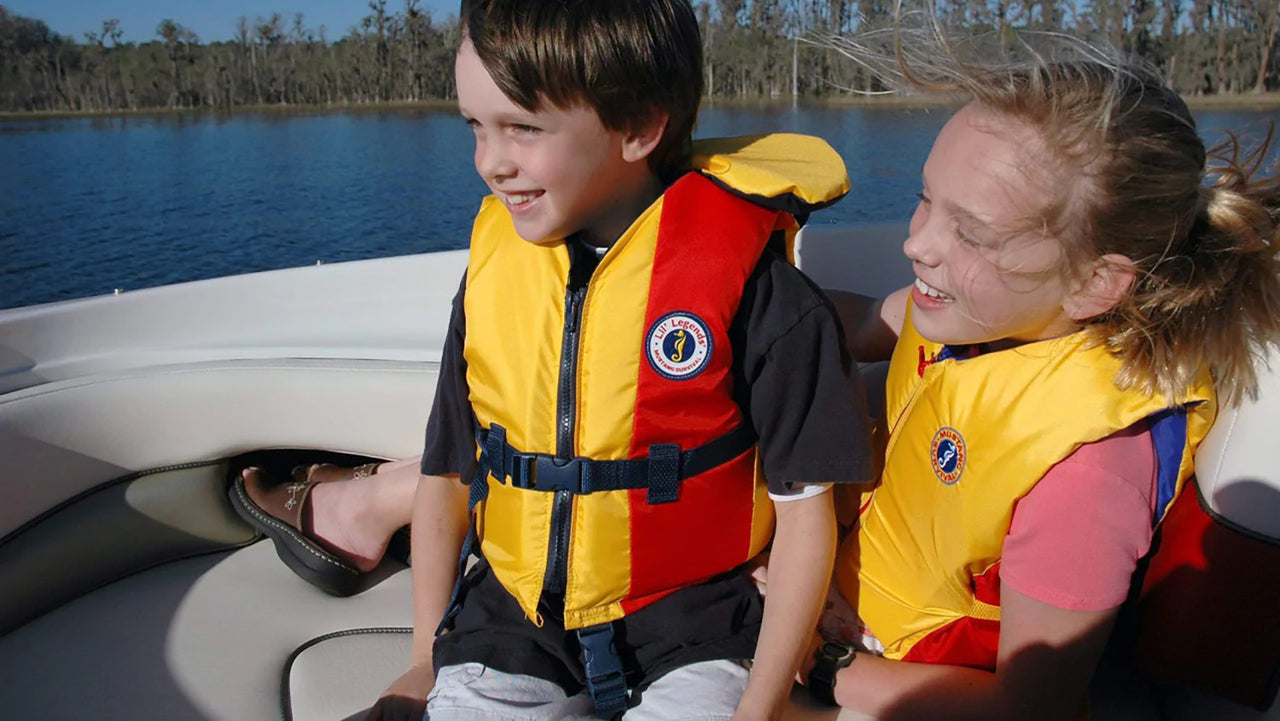 Questions to Ask for Better Boater Safety
We may be writing this article in the middle of National Safe Boating Week, but it's easy to see how better boater safety provides you benefits all season long. Whether you go cruising on a pontoon, paddling in a kayak, cutting through wake on a jet ski or speed boat, or trolling pockets for lunkers, make sure you give a look at the list below so you can eliminate threats between you and how you enjoy the water. 
Better Boater Safety: Must-Ask Questions
For better boater safety, check out the questions, quick tips, and equipment we recommend below. And, since there are plenty more boater safety measures worth taking, feel free to comment with your favorite tips at the end of the article.
Image credit: U.S. Coast Guard
1. Are your flotation devices still good?
At the start of each season, be sure to check your life vests and consider upgrading them when appropriate. All personal flotation devices diminish in their effectiveness over time and their design has come a long way in the last few years, too. Make sure you have quality PFDs for you and your passengers (especially kids).
2. Could your launch go easier?
If you've ever gotten a laugh from a boat ramp FAIL video or picture, you know there are plenty of missteps that can be made when launching. Between the truly dangerous situations and the funny ones, there are plenty of reminders that our launches don't always go smoothly, so we recommend using a Z-Launch Watercraft Launch Cord as a simple solution to make it easier.
When you utilize a watercraft launch cord and keel guard, all you have to do is unstrap the boat at the ramp, attach the launch cord, back it up into the water enough for the boat to float off past the trailer, and tow it back carefully to the ramp. Even when launching alone, you can hit the water quickly and safely.
3. Are you hooking up your kill switch every time?
You might call it a kill switch lanyard, kill cord, engine safety cut-off coil, engine-stop tether, or something else, but whatever you call it, make sure it's connected. If anything should bump you from your place, you'll want to make sure that your boat doesn't keep running without you in the drivers seat.
4. How safely are you (and other boaters) driving?
Check your blind spots, observe boating laws and, most importantly, always remember that even if another boater is wrong and you are right, it's better to be cautious and alive than in the right and crashed. Just like when driving a car, it's not just about you, it's about making good habits of avoiding when other drivers may make a critical mistake.

5. How hard is it to accelerate or decelerate?
Especially if you are running a fishing boat, consider using a foot throttle so your boat can easily accelerate when you want it to and so it can easily slow down when you're not telling it to. This will also make sure that you can keep both hands on the steering wheel.
6. Are you running a hydraulic jack plate?
Are you able to run your prop far enough down to get an efficient bite and prevent prop ventilation? Are you able to run your prop above submerged dangers (and still run it efficiently)?
When you run a hydraulic jack plate, you can make easy adjustments to the vertical height of your prop and your entire motor, giving you just what you need for either situation and the times in between. This gives you more control, added safety, and better fuel efficiency, too. If you're running an Atlas Hydraulic Jack Plate, you'll also have the added safety of the tethered transom to prevent many situations where the motor may be thrust toward the inside of the boat.
7. Where is your trim switch mounted?
Many trim switches are mounted on the console and that can work fine, but for added safety and easy control, especially if you are running a hydraulic jack plate, use a trim switch that is mounted closely to the steering wheel, such as our blinker style trim switches. This will provide you another way to keep both hands on the wheel.
8. Have you optimized your trolling motor?
If you're running a trolling motor, consider replacing the factory trolling motor handle and cable with a G-Force Trolling Motor Handle and Cable. This will give you extra durability and safety against cable failures where you may get injured from falling backward or off the boat.
9. Can you easily get back into the boat?
If you take a dive off your boat, especially an unexpected one, be sure to make it easy on yourself when you need to get back in. There are all kinds of ladders out there, but for a simple, effective, and easily stowed ladder, check out our Twist-Step Emergency Jack Plate Ladder. It's compatible with all outboards and meets ABYC regulations for reboarding devices.
10. Can you see and be seen?
Working lights are crucial for safe boating, especially if you boat during hours of low visibility. Consider checking your headlights and navigation lights to make sure they work each season and each time you head out.
For added sight (and style), consider RGBW courtesy lights and LED light strips along the gunnels, steps, and other areas where there is the potential to fall or trip. With so many boat lighting options, it won't be hard to upgrade your lights to improve the look of your boat, your ability to see around it, and the potential for other boaters to see you, too.
Boat Safely, Boat Often
We hope you'll use this post as a starting point for a boater safety checklist and reference for tips that can lead to better protection for you, your family, friends, and other boaters as well. If we all do our part with that, we are confident that you'll have a more productive and enjoyable time on the water and the future of fishing will be a little brighter.