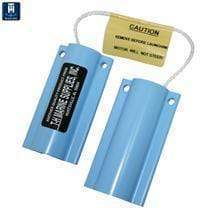 Tech Tip #4: Steer-Stop Steering Lock
This is the fourth episode of our Tech Tips series! Our Tech Tips will feature many of our products and offer advice on installation and maintenance.
Boat owners go to great lengths to keep their prized possessions safe from everything that could go wrong both while out on the water and in storage. An often overlooked time period in boat ownership is that time between storage and fun on the water; putting your boat on a trailer and hauling it to your destination. T-H Marine has developed a few products that can help during this transitional period, starting with our Steer-Stop Steering Locks.
T-H Marine developed the first steering stop available for outboard motors. Outboards equipped with hydraulic steering can "wander" when trailering, which can damage the motor. Units clip onto hydraulic steering rams on either side of the outboard to keep engine straight and prevent damage to the motor supports. A cord is included to keep the units together when stowed and also aids in removal. Get your Steer-Stop Steering Lock system today and be ready to protect your outboard motor next time you trailer your boat to a day on the water.
The Steer-Stop Steering Lock's features include:
Locks hydraulic steering when trailering.
Fits most steering cylinder rods on outboard engines.
Snaps over outboards hydraulic steering cylinder rods.
Helps keep engine centered during transport.
Protects steering system, outboard, and motor supports.
Includes cord to connect units for storage and to aid in removal.
Is simple to take on and off.