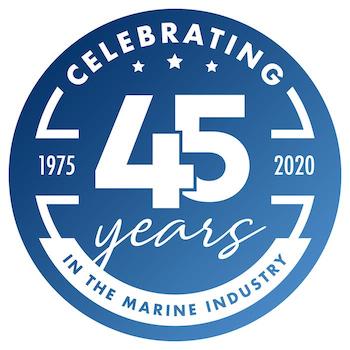 T-H Marine Supplies Invites Boaters to Join in 45th Anniversary Fun
Huntsville, AL – October 1, 2020 – T-H Marine Supplies, LLC, of Huntsville, Alabama, is making the most of its 45th year serving the marine industry as a family business, despite the impact of COVID and having to shift anniversary plans to the fall. At the heart of it all, T-H Marine is giving thanks to those who have been part of the journey, especially the remarkable boatbuilders, distributors, dealers, tackle shops, customers, and pro staff who have helped T-H Marine to prosper since its humble start.

"I was just a kid at the time, but I vividly remember how T-H Marine began in 1975," said T-H Marine CEO, Jeff Huntley. "It was my dad, two of his buddies, and a vision for an innovative new product that would change the industry forever. I had already helped put together fishing lures for my dad since I was around 7 years old for his company Bumble Bee Baits. Now, I got to help out with boat parts as that business got started and grew. You could say I was part of the business operations from the beginning."


Jeff Huntley's dad, Bill Huntley, may have worked a day job at the local hospital diagnostics lab, but he could be seen fishing Pickwick Lake several nights a week and he even started a bait company eight years prior to founding T-H Marine. It was second-nature for him to involve his friends and family as he developed gear for the sport he loved.


"He wanted to improve the boating and fishing experience," Jeff Huntley added. "At first, it was through custom fishing baits, followed by an idea about how to enhance the throttle control with a built-in trim handle. The T and the H in 'trim handle' inspired the company name as well as an ever-growing catalog of innovative products. My dad started with just some ideas to make his experiences better when he was boating and we have continued to try to have that same focus as a company — to make excellent products that allow everyone to better enjoy their passion on the water."


Just as Bill fished with his father, he shared the tradition in a way that continues through the family to this day. This is true with both recreational and business pursuits, as Jeff Huntley serves as CEO and Jeffery Huntley, Jr. serves as VP of Operations. 


"It's hard to keep us off the water," Jeff Huntley said. "Our whole family loves boating and fishing. We love it on a pontoon boat on the lake, on a bass boat racing down the river to our favorite fishing holes, or on a center console fishing in the ocean. I'm very thankful that I was able to learn the love of being on the water from my Dad and then to share that legacy in so many ways with my kids and my grandkids, just like my dad did — and he still does.  Even though dad has retired from the business, he still fishes almost every week!"


As for the legacy of the business, many boat owners might not even know their boat is built with T-H Marine components, but brand awareness is on the rise. T-H Marine gives credit to industry partners for helping with that along the way and T-H Marine is determined to keep it going with modern techniques, like making their customer-oriented social media and website a top priority. 


Those facets are an important part of the 45th Anniversary celebration, too, as boating and fishing enthusiasts are invited to take advantage of the following sales and giveaways:


$100 gift card giveaways throughout the month of October

G-FORCE® Customer Appreciation Sale: 10/1/2020 through 10/7/2020

ATLAS® Outboard Performance Boost: 10/8/2020 through 10/14/2020

HYDROWAVE® Feeding Frenzy: 10/15/2020 through 10/21/2020

BLUE WATER® LED Fall Install Special: 10/22/2020 through 10/28/2020

For a complete list of 45th Anniversary events, updates, and details, be sure to visit thmarine.com and follow T-H Marine Supplies (@thmarineteam) on social media.


#  #  #  #  #


About T-H Marine

T-H Marine is celebrating its 45th Anniversary of business and has grown to be one of the largest manufacturers of boating and fishing accessories in the U.S. T-H Marine provides parts to virtually every boat manufacturer in the country and distributes them through virtually every major distributor and retailer of boating and fishing products. To learn more about T-H Marine, please visit thmarine.com/about-us.


# # # # #


For More Information About 45th Anniversary Events from T-H Marine Supplies

For additional information about T-H Marine's 45th Anniversary Events, as well as company history, and information about T-H Marine's many products, please visit us at thmarine.com/celebrate. Media outlets are also welcome to use the contact information provided below. 


Contact: Derek Trovillion
Email: dtrovillion@thmarine.com
Phone (FOR MEDIA ONLY): 317-517-5435

For all customer service-related matters, please call (256) 772-0164 (Monday-Thursday 7am to 5pm CT) or visit us anytime at thmarine.com/help