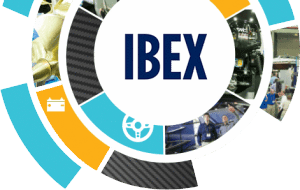 T-H Marine SnapFlex LED Stern Navigation Light Wins 2016 IBEX Innovation Award
Huntsville, AL – October 4, 2016 -- T-H Marine Supplies, Inc., of Huntsville, Alabama was awarded a 2016 IBEX Innovation Award for its SnapFlex LED Stern Navigation Light this morning at the International Boatbuilders' Exhibition & Conference (IBEX) Industry Breakfast. This IBEX Innovation Award was in the "Deck Equipment and Hardware" category.
T-H Marine's president, Jeff Huntley, stated, "We are so excited to have our SnapFlex LED Navigation Light recognized for the innovations it represents. No major changes have occurred to stern light poles in decades. We decided it was time to change that. This patented design that effortlessly snaps into place, locks tight, and flexes to prevent breakage is a major design leap that boat builders and boaters are already loving.
The T-H Marine SnapFlex LED Stern Navigation Light features a patented RCA CAM quick release, locking base. This allows the navigation light to be quickly and securely installed. The SnapFlex light also features a flexible fiberglass shaft that prevents damage to both the light and boat in the event of any impact to the light. In addition, it is a 2-Mile USCG approved navigation light.
IBEX Innovation Award winners were chosen in 13 categories. These winners were selected by a panel of judges from Boating Writers International (BWI). This is a professional organization of writers, editors and other professions from the boating industry.
# # # # #
T-H Marine is celebrating its 41st Anniversary of business and has grown to be one of the largest manufacturers of boating and fishing accessories in the U.S. T-H Marine provides parts to every boat manufacturer in the country and distributes them thru virtually every major distributor and retailer of boating and fishing products. To learn more about T-H Marine, please visit http://thmarine.com/about-us.
# # # # #
For More Information About T-H Marine and Our Snapflex LED Stern Navigation Light
If you would like more information about T-H Marine and our award-winning Snapflex LED Stern Nav Light, please use the contact information provided below.
Contact: Jimmy Mason
Phone: 256-772-0164
Email: jmason@thmarine.com