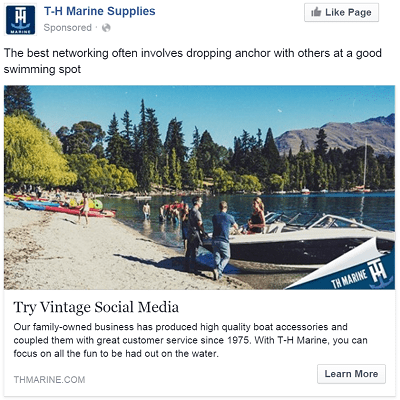 T-H Marine, Bevelwise Earn Marine Industry Recognition
Miami, FL – February 23, 2016 -- T-H Marine Supplies, Inc., of Huntsville, Alabama, and Bevelwise, of Grand Rapids, Michigan, were recently recognized by Marine Marketers of America for outstanding marketing efforts in the fishing and boating industry. Companies were honored during the Miami International Boat Show Industry Breakfast, where a diverse group of entrants celebrated opportunities for marine industry recognition.
As one of 97 entries competing for the 2015 Neptune Awards for Marketing Excellence, T-H Marine and Bevelwise were recognized for their work in the emerging area of Native Advertising. For T-H Marine, Web Advertising in the "Native Advertising" subcategory meant advertising on one particular channel, like a social media platform. Their winning advertising campaign, titled "Even More Ways to Enjoy the Water", ran on Facebook and touched upon the hallmarks of the emotional connection between people and their love of fishing and boating.
"We are thankful to the Marine Marketers of America for this recognition," T-H Marine's president and CEO, Jeff Huntley, stated. "We know how important it is to be accessible and reach new consumers via digital media and we are working hard every day to do so in the most effective way possible. Native Advertising on social media has been an excellent addition to that mix, and we were excited to share our experience with our peers in the marine industry."
"As avid anglers and boaters ourselves, the teams at T-H Marine and Bevelwise enjoyed constructing this campaign," Bevelwise Digital Marketing Manager, Derek Trovillion, stated. "Using both visual and written cues, we sought to highlight senses of nostalgia, recreation, friendship, and success with outings on the water. As a result, we had a wonderfully positive response from our audience."
Building both brand awareness and identification of T-H Marine products as solutions to needs within the market, T-H Marine achieved marine industry recognition from the campaign as it was run in 2015. Going into 2016, T-H Marine and Bevelwise are planning to do even more to engage their audiences and celebrate the many reasons people have to enjoy the outdoors on the water.
About Marine Marketers of America
MMA ( www.marinemarketersofamerica.org ) is a professional development association working to enhance the success of marketing and communications professionals involved in the recreational marine industry. The association was established in 2007.
About T-H Marine
T-H Marine is celebrating its 40th Anniversary of business and has grown to be one of the largest manufacturers of boating and fishing accessories in the U.S.  T-H Marine provides parts to every boat manufacturer in the country and distributes them through virtually every major distributor and retailer of boating and fishing products.  To learn more about T-H Marine, please visit www.thmarine.com/about-us
#  #  #  #  #
For More About T-H Marine and its History of Marine Industry Recognition
If you would like more information on this topic, including T-H Marine's longstanding history of marine industry recognition, serving anglers and boaters of varying types, please use the contact information provided below:
Contact: Jimmy Mason
Phone: 256-772-0164
Email: jmason@thmarine.com