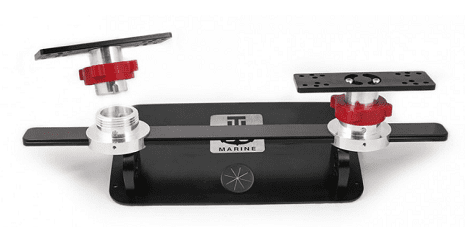 T-H Marine Announces Dual Kong Electronics Mounts
Huntsville, AL – July 14, 2016 -- T-H Marine Supplies, Inc., of Huntsville, Alabama, announced today the release of the Dual Kong Electronics Mounts. These mounts will be available for both the bow and console.
The T-H Marine Dual Kong Electronics Mount is built of aircraft aluminum and stainless steel. It is designed for the heaviest of today's marine electronics and has zero movement with these units in the roughest water. In addition, the arms are secured to the bases with a quick release nut that allows quick installation or removal.
T-H Marine's president and CEO, Jeff Huntley, said, "We are excited to announce the Dual KONG™ Electronics Mount. Over the past few years, the capabilities and functions of marine electronics greatly increased. More and more anglers are putting multiple units at both the console and the bow of their boats. We have worked with our pro-staff for the last two years to design the dual electronics mounts. Like the KVD Kong mount, the Dual Kong Mounts are rock solid to protect anglers electronics in the roughest, most extreme water conditions."
"In addition, the Dual Kong Mounts allow anglers to adjust the position of their units for maximum visibility. Also, the Dual Kong Mounts allow anglers to quickly remove their units when needed. They truly give the angler maximum flexibility."
The Dual Kong Electronics mounts will be offered in both bow and console models. They are initially available for Basscat, Nitro, Legend, Phoenix, Skeeter, Ranger and Triton. Additional models will be added in the future.
The T-H Marine Dual Kong Mount will be available at Bass Pro Shops, Tacklewarehouse.com, and other leading marine dealers and retailers.
# # # # #
T-H Marine is celebrating its 40th Anniversary of business and has grown to be one of the largest manufacturers of boating and fishing accessories in the U.S. T-H Marine provides parts to every boat manufacturer in the country and distributes them thru virtually every major distributor and retailer of boating and fishing products. To learn more about T-H Marine, please visit http://thmarine.com/about-us.
# # # # #
For More Information About T-H Marine and Our New Dual Kong Electronics Mounts
If you would like more information about T-H Marine and our new Dual Kong Electronics Mounts, please use the contact information provided below.
Contact: Jimmy Mason
Phone: 256-772-0164
Email: jmason@thmarine.com