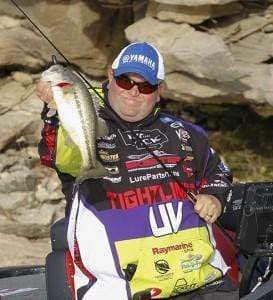 T-H Marine Angler Bill Lowen Talks About 4th Place Finish at Bassmaster Classic
T-H Marine Pro Angler Bill Lowen finished 4th at the Bassmaster Classic on Grand Lake. He had 15 bass for a total of 45.11lbs. We had a chance to talk with Bill this week about the Classic and to get his thoughts on the upcoming BASS Elite Series event at the St. Johns River.
T-H Marine: Congratulations on a great finish at the Bassmaster Classic. Tell us about your practice for the tournament.
Bill: Practice was really good. I thought I would have a chance to catch 20-24lb per day. I was really excited after practice.
T-H Marine: Tell us about your pattern.
Bill: I was fishing creeks and pockets. I was concentrating on the last deep water before it flattened out. Basically, the end of the creek channels.
TH Marine: Did anything change from during practice as the tournament began?
Bill: After practice, I thought that I was going to catch them cranking a shallow crankbait. However, once the tournament began, the cranking bite had disappeared for me. I slowed down and started flipping and started catching them.
T-H Marine: How did you prepare for the tournament before you got to Oklahoma.
Bill: I typically don't do a lot of preparation before an event. I like to fish the conditions of the lake when we arrive. This helps me fish with an open mind without getting hung up on fishing history.
T-H Marine: What were your key baits. What rods and reels did you rig these on?
Bill: During the tournament, I caught them on a 4" Tightlines UV Bill Lowen Tube, black and blue color and a ½ ounce Lure Parts Online Flipping jig, black and blue with a Tightlines UV Bubba Craw. I fished both of these on a Castaway 7'6" Skeleton Flipping rod with a Team Lews Light 7.5:1 reel and 20lb High Seas Flourocarbon.
T-H Marine: What pieces of T-H Marine equipment were important to you and why?
Bill: My Atlas Jack Plate. The wind blew extremely hard in practice and during the tournament. Having the ability to lower my engine and power through the big waves was a huge advantage.
T-H Marine: Looking ahead to the St. Johns River, what kind of preview can you give us?
Bill: It should be awesome. We should hit the lake in a full blown spawning deal. It is going to take some big weights to do well.
T-H Marine: What piece of T-H Marine equipment could play the biggest role for you at Hartwell?
Bill: My Atlas Jack Plate again. This time it will be for fishing in shallow water. Having the ability to raise my engine running in shallow water or using it to get on plan on really shallow water will be a huge time saver. In addition, the G-Force Eliminator prop nut will be a big advantage for moving around quietly in the shallow water.
T-H Marine: Thanks Bill. Congratulations again and good luck at the St. Johns River.
For More Information About Pro Angler Bill Lowen
To learn more about Bill, his achievements, and his sponsors, visit his website by clicking here. You can also check out his favorite T-H Marine gear by clicking here:
Atlas Hydraulic Jack Plate: http://thmarine.com/th-marine-products/outboard-jack-plates/hydraulic-jack-plates/atlas-hydraulic-jack-plates
G-Force Eliminator Prop Nut: http://thmarine.com/g-force-eliminatortm-trolling-motor-prop-nut.html