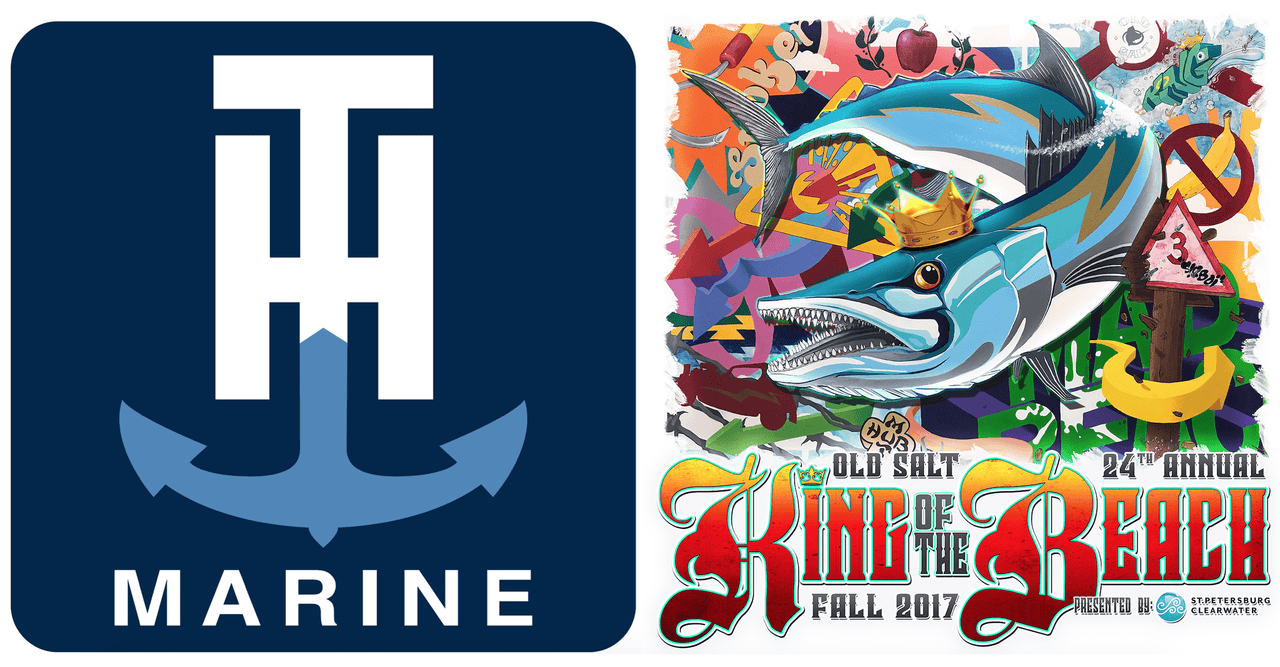 T-H Marine Sponsors Old Salt Fishing Foundation Fall Tournament
Madeira Beach, FL – October 12, 2017 – T-H Marine Supplies, Inc., of Huntsville, Alabama, announces it has partnered with the Old Salt Fishing Foundation as a sponsor for the Fall King of the Beach Tournament and Festival. This is the 24th year for the event, which takes place this November 2-4, 2017 in Madeira Beach, Florida.
"The Old Salt King of the Beach provides a competitive saltwater tournament experience for anglers from across the spectrum with a level playing field and great payouts," Tom Verdensky, President of the Old Salt Fishing Foundation stated. "The lucrative payout/prize structure continues to draw more and more anglers. More anglers means more money for our charity partners and our youth and family programs. It's a win all the way around."
"The King of the Beach Tournament and Festival is known as the largest and richest kingfish tournament in the United States and we're excited to support it," T-H Marine's CEO, Jeff Huntley, stated. "We look forward to doing even more with saltwater fishing and demonstrating how T-H Marine products can enhance each angler's experience, whether inshore or offshore."
The Fall King of the Beach Kingfish Tournament will host in excess of 600 fishing teams from Texas to North Carolina. Anglers will compete for the King of the Beach crown, a guaranteed $50,000 first place payout, and the potential for tens of thousands of dollars more. Of the three previous first place winners, each came away with $82,610, $79,908, and $75,431 respectively.
The tournament is the centerpiece of the three-day waterfront festival, where traveling anglers, local families, and residents enjoy fun activities, food, live music, a boat show, fishing apparel/gear, and various events.
"Quality partnerships, like the one we are embarking on with T-H Marine, provide foundational support allowing the Old Salt Fishing Foundation to deliver on its mission with tournaments like King of the Beach. We are both fortunate and honored by this new association," Verdensky added.
Proceeds from the three-day tournament and waterfront festival help the Old Salt Fishing Foundation fund family and youth fishing programs, provide financial support for select charities, and deliver effective advocacy on behalf of Florida anglers.
About the Old Salt Fishing Foundation
The Old Salt Fishing Foundation is a 46-year-old 501(C)(3) nonprofit, all volunteer fishing organization. Old Salt hosts and sanctions a range of competitive annual fishing events to provide support for local charities, angler advocacy, and youth and family fishing programs.
About T-H Marine
T-H Marine's mission is to provide awesome products that help boaters pursue their passion on the water. They are a family-owned company that is fanatical about boating and fishing. T-H Marine manufactures thousands of boat parts and boating and fishing accessories that are found on virtually every recreational boat built in the United States including bass boats, pontoon boats, runabouts, ski boats, deck boats, offshore fishing boats, flats boats, aluminum fishing boats, and center console boats. You can also find their products in retail outlets throughout the world.
T-H Marine, a household name in bass boats, also offers a broad line of products for saltwater boats, especially inshore fishing boats. Some of their most well-known brands are: ATLAS™ hydraulic jack plates, HydroWave™ electronic feeding stimulators, the Hot-Foot™ throttle, the Oxygenator™ livewell oxygen generator, G-Juice™ livewell treatment formula, G-Force™ trolling motor accessories, Tackle Titan™ tackle management systems, KVD KONG™ extreme electronic mounts, Wave Away™ electronics screen cleaner, and Aqua-Blaze™ LED lights.
For More Information About T-H Marine's Partnership with the Old Salt Fishing Foundation
For additional information about T-H Marine and who we are, click here. Check out the T-H Marine Facebook page as well for the latest updates about T-H Marine products, company news, and more. Please use the contact information below to get more information about T-H Marine's partnership with the Old Salt Fishing Foundation for the Fall King of the Beach Tournament.
Old Salt Fishing Foundation Contact:
Amy Verdensky - Marketing Director
Phone (Office): 727-216-6601
Phone (Cell): 727-422-0090
Email: info@OldSaltFishing.org
Website: http://oldsaltfishing.org/
T-H Marine Supplies Contact:
Derek Trovillion
Email: dtrovillion@thmarine.com
Phone (FOR MEDIA ONLY): 317-517-5435
For all customer service-related matters, please call (256) 772-0164 (Monday-Thursday 7am to 5pm CT) or visit us anytime at thmarine.com/help