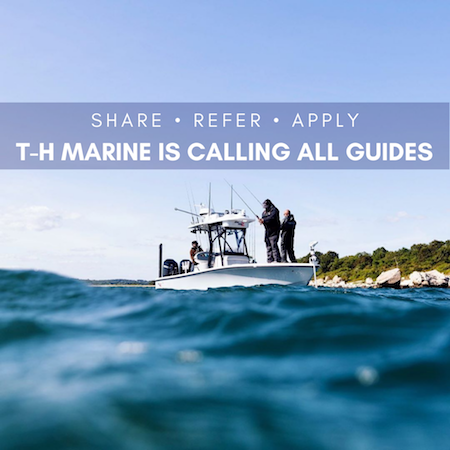 New T-H Marine Initiative Promotes Hunting and Fishing Guides
Huntsville, AL – October 12, 2020 – T-H Marine Supplies, LLC, of Huntsville, Alabama, is pleased to announce the launch of a new program that recognizes the value of local hunting and fishing guides and promotes their services alongside the T-H Marine brand. With these guides lending their expertise to people seeking a successful hunting or fishing experience, the T-H Marine Guide Program is a natural partnership built upon a mutual love of the outdoors and the drive to share it with others.
"We have immense appreciation for fishing and hunting guides," T-H Marine President and CEO, Jeff Huntley said. "As they do what they love and they love what they do, they help people land their catch or quarry and make memories that will last a lifetime."
"Few experiences can top that feeling of a hunting guide helping you locate some elusive waterfowl or an experienced angler putting you on some hungry fish," Huntley added. "I can think of several outings where a guide has not only helped me have a once-in-a-lifetime experience, but they also facilitated good times with family and friends. We all could use more of that."
With the soft launch of the program, T-H Marine has already recruited over 200 professional guides across 36 states and several international guides, too. Most guides are specialists with deep knowledge on a few species, but the program has garnered interest from guides who span a long list of fish and wild game species.
In exchange for professionally representing the T-H Marine brand during their guide services, T-H Marine Guides can expect a growing list of benefits. These benefits currently include exclusive discounts on T-H Marine products, sneak peeks at new gear and resources, a free listing on T-H Marine's Guide-Finder Map, co-marketing opportunities, and a starter package of gear from T-H Marine.
There is no cost to apply and the program is open to any certified hunting and fishing guide who completes an application and meets the minimum criteria. Once accepted into the program, T-H Marine guides are expected to be good ambassadors of the company brand, but more than anything else, T-H Marine is asking guides to be exceptional ambassadors of their sport. With this top objective in mind, all parties can work together to ensure that future generations have both the interest and opportunity to enjoy the outdoors.
For more information about the T-H Marine Guide Program, visit our Guide Finder right here. For tips about T-H Marine products, programs, and opportunities, be sure to follow T-H Marine Supplies (@thmarineteam) on social media.
#  #  #  #  #
About T-H Marine
T-H Marine is celebrating its 45th Anniversary of business and has grown to be one of the largest manufacturers of boating and fishing accessories in the U.S. T-H Marine provides parts to virtually every boat manufacturer in the country and distributes them through virtually every major distributor and retailer of boating and fishing products. To learn more about T-H Marine, please visit the about us section of our site.
# # # # #
For More Information About T-H Marine's Local Hunting and Fishing Guides
For additional information about joining T-H Marine's program for local hunting and fishing guides, please visit our Calling All Guides page. Media outlets are also welcome to use the contact information provided below. 
Contact: Derek Trovillion
Email: dtrovillion@thmarine.com
Phone (FOR MEDIA ONLY): 317-517-5435
For all customer service-related matters, please call (256) 772-0164 (Monday-Thursday 7am to 5pm CT) or visit us anytime at thmarine.com/help.