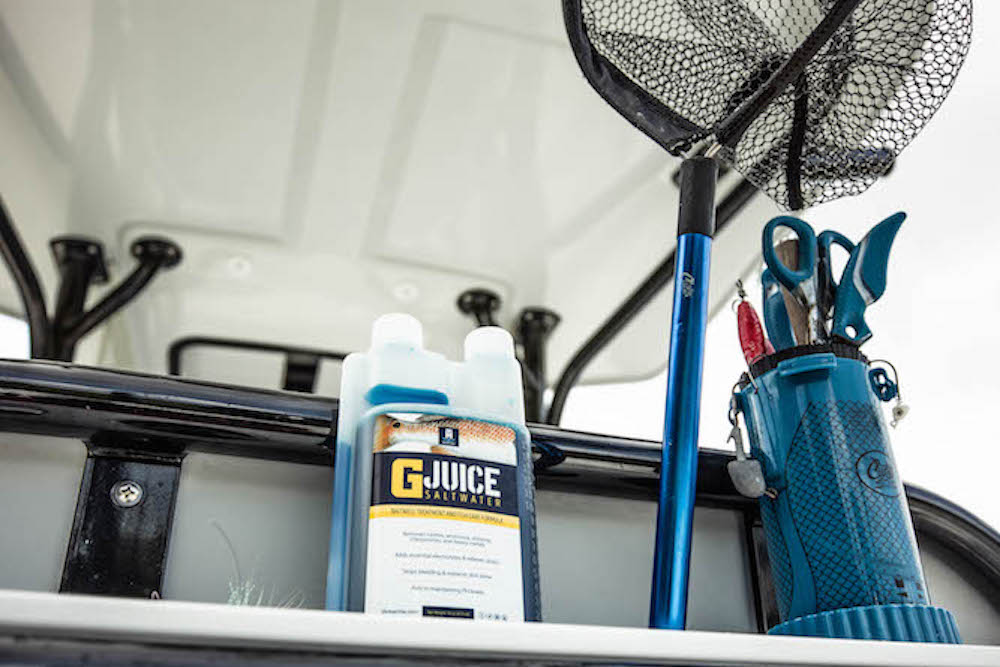 Keep Saltwater Fish Alive With T-H Marine's New G-JUICE Formula
Huntsville, AL – November 6, 2019 – T-H Marine Supplies, LLC, of Huntsville, Alabama, has officially expanded its G-JUICE product line with G-JUICE Saltwater Treatment and Fish Care Formula. Designed to act as a rejuvenator and water conditioner, G-JUICE is widely known by freshwater anglers as a non-toxic, liquid formula made to reduce fish and bait mortality. For 2019 and beyond, saltwater anglers everywhere will also have access to the benefits built into G-JUICE, helping those anglers keep saltwater fish alive. Similar to the freshwater formula, G-JUICE Saltwater Treatment activates instantly when added to a livewell. Once added, it removes harmful substances, replenishes skin slime to fish, and supplies essential electrolytes.
"Before bringing G-JUICE Saltwater Treatment and Fish Care Formula to market, we produced it for our redfish tournament partners," said T-H Marine President and CEO, Jeff Huntley. "With so much success keeping those redfish healthy for release, we can't wait to see the life-saving qualities of G-JUICE at work for all types of anglers."
As part of a growing line-up of conservation-minded products, G-JUICE Saltwater Treatment and Fish Care Formula helps ensure fish survival when caught and released. Those fish can then go on to grow, spawn, and bite another day. With widespread conservation-minded approaches like this, healthy fish then contribute to healthy fisheries that can be enjoyed by generations to come.
"It's awesome to see how much G-JUICE has contributed to tournament anglers' success," Huntley stated. "For nearly a decade, people have praised the G-JUICE formula and we're proud of how it has been such a positive force for keeping fish alive."
G-JUICE has been tested and trusted by bass anglers, crappie anglers, redfish anglers, and others, and acclaimed for how easy it is to use. Dosing instructions are included on every label and 16 ounce bottles come with an easy-fill measuring chamber. Additionally, G-JUICE won't clump and harden like granular treatments and it is the only livewell formula approved to work with the OXYGENATOR Livewell Oxygen Generator.
For any angler looking to keep bait or fish alive, T-H Marine has a full line of conservation products and all work well with G-JUICE. From G-JUICE to the G-Force Conservation Cull System, Conservation Cull Weights, the OXYGENATOR, and the PRO-AIR SYSTEM, T-H Marine is keeping conservation at the forefront of the fishing industry.
G-JUICE Saltwater Treatment and Fish Care Formula is now available online and will also be available through a variety of retailers. With distribution and sales already underway, anglers can expect to see increased availability and information from their choice of retailers, online stores, or directly from T-H Marine at thmarine.com/saltwatergjuice.
# # # # #
About T-H Marine
T-H Marine is celebrating its 44th Anniversary of business and has grown to be one of the largest manufacturers of boating and fishing accessories in the U.S. T-H Marine provides parts to virtually every boat manufacturer in the country and distributes them through virtually every major distributor and retailer of boating and fishing products. To learn more about T-H Marine, please visit thmarine.com/about-us.
# # # # #
For More Information About G-JUICE Saltwater Treatment and How to Keep Saltwater Fish Alive
For additional information about G-JUICE Saltwater Treatment and Fish Care Formula and T-H Marine's other conservation products, please visit us at thmarine.com/conservation or use the contact information provided below.
Contact: Derek Trovillion
Email: dtrovillion@thmarine.com
Phone (FOR MEDIA ONLY): 317-517-5435
For all customer service-related matters, please call (256) 772-0164 (Monday-Thursday 7am to 5pm CT) or visit us anytime at thmarine.com/help