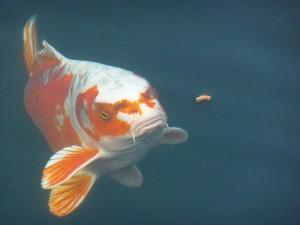 How to Keep Fish Alive with G-Juice: A Koi Story
For more than a few years now, we have had the pleasure helping customers keep fish alive. This goes both for the fish you reel in and the bait-fish you may be using to catch them. If you haven't already heard of how we do this, it is with our special livewell formula, G-Juice, which is endorsed and named in part for B.A.S.S. Elite Series Pro, Gerald Swindle. So, with that introduction out of the way, you may be wondering "why is this story anything remarkable?"
Well, usually, G-Juice is used by customers who need to keep fish alive while fishing tournaments or while doing recreational fishing. Usually, these anglers are out on a boat. Sometimes though, we get feedback from customers who really weren't fishing at all -- at least not in the traditional sense. You see, G-Juice has some great applications for sustaining the health of fish in other situations, too.
In his own words, we'll let Tim Cummings (Waynesboro, Tennessee) explain what he did to keep fish alive in his own backyard.
Hey Jimmy,

What started out a few weeks ago as a small fix-it job on a water garden pond almost cost me $100.00 in lost goldfish.

I was gonna fix some cracks in my wife's waterfall that flows into her waterpond with the fish. I was using Portland concrete. I filled the cracks and just sprayed a small amount of water to dampen the concrete. Apparently I sprayed a little to much water and it ran down an got into the pond. Just a short while later all fish were floating.

So I took the fish out and put them into a tub with fresh water. They were breathing but just floating. Within a few hours two were lying flat on the bottom a barely breathing!

All of the fish's eyes had turned very cloudy, so I turned to my wife and said "I guess they are going to die."

BUT then I remembered I had a couple of small bottles of the G-Juice I had got at a tournament.

I put more fresh water into the tub along with one bottle of the G-Juice. Next, I circulated it with a small pump.

Within a few hours the fish seemed some better so I added the other bottle of G-Juice.

The next day all of the fish were better, but still not looking good, so I added my last bottle of G-Juice and more fresh water.

It took a couple more days, but ALL of the fish recovered and are doing great thanks to the G-Juice.

I would of never believed that any of these fish would of lived. They were already turning white.

Just wanted to let you know that the Gjuice really, really works great!!!!

Thanks,

Tim Cummings
Waynesboro,TN
Learn More About How to Keep Fish Alive
We're not sure if any of us would have predicted the use of G-Juice to keep fish alive like this, but we're glad Tim had some to use! So whether you are looking to keep fish healthy during stressful conditions out on the boat or you have a pond where you need to transition your fish, take a look at our livewell solutions and consider if they may be just what you need.