The History of CMC Marine
Cook Motor Machine & Supply Co. located in Duncan, Oklahoma was established in 1956 by Henry and Dorothy Cook. Henry, a World War II veteran, was recognized as the local motor machining and rebuilding expert and soon gained a large share of that business. Dorothy handled bookkeeping and financial details as the new business grew. They were also raising two young sons, Gary age 12 and Greg age 3 at that time. The company performed complete auto engine rebuilding and machine work including crankshaft regrinding and auto parts retail sales.
                                             
  Henry and Dorothy Cook 1945
In the early 1960's the company began to include oilfield engine rebuilding to their line of services. This led to general machining of oilfield parts. By the early 1970's the company was making production parts for companies such as Westinghouse and Halliburton of which Gary Cook was a driving force. In 1974 he facilitated the purchase of their first N/C turning center machine. This was one of the first N/C (numerical control) machines in the area.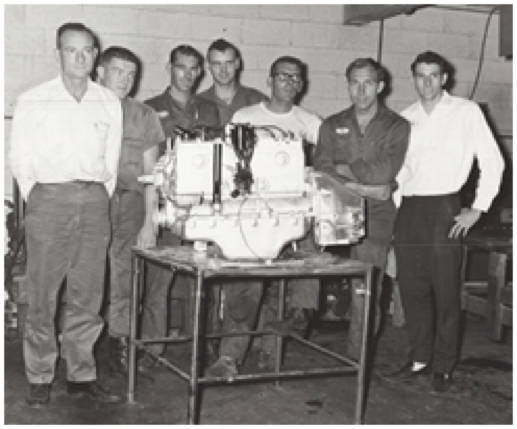 Henry Cook, Gary Cook and crew 1960
In 1976 Greg Cook designed an oilfield pumping unit (pump jack) for oilfield production. The unit featured a unique double reduction chain reducer and counterweight design. He applied for patents on both items in 1977 and quickly received Patent Pending status. Soon the units were approved by the American Petroleum Institute (A.P.I.). With demand growing the company began producing CMC Pumping Units at a rapid pace. This created an imminent need to expand. Background and expertise of in-house precision production machining gave the company a substantial advantage in the market. In 1978 the company was incorporated and became Cook Machine Company. Plans were made to build a new facility and combine three facilities into one plant.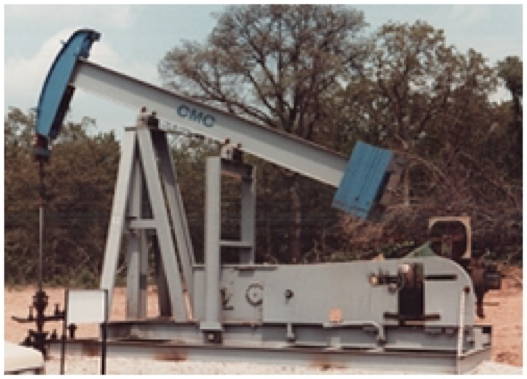 CMC Pumping Unit model C4-57-95-48 1979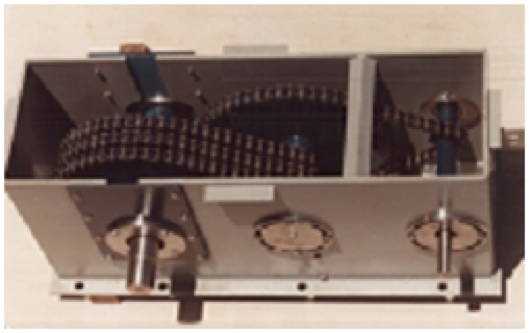 The patented CMC Chain Reducer 1980
In 1980 Cook Machine Company moved to a new 35,000 sq. ft. facility and the U.S. patent for the chain reducer was granted. With the oil business booming, CMC's pumping unit line was expanded to seven different sizes. This line became a significant player in the market and began producing an average of 100 units per month. By now the business had grown exponentially to over fifty employees and several CNC (computer numerical control) machines were purchased along with other heavy equipment.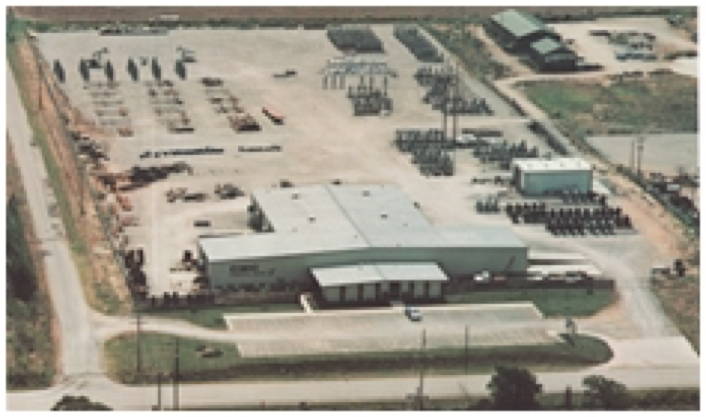 CMC Pumping Unit facility 1980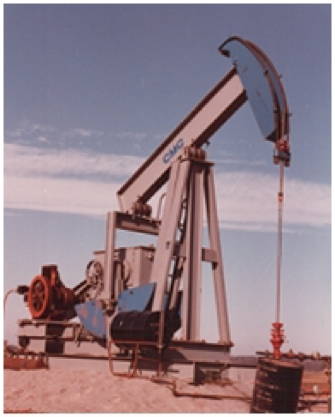 CMC pumping unit Model C5-114-173-64 1981
The Cook family's favorite pastime had always been boating and water skiing. They started out in the 1950's skiing behind a 35hp motor on a wooden Yellow Jacket boat. From there they moved on to inboard boats with V8 engines some of which were built by Henry and son Gary. Gary and Greg became interested in bass fishing in the 1970's. In 1980 Greg bought a new outboard bass boat with 140hp motor and was unhappy with the performance. To correct the performance problems, he began working on a bracket that would facilitate transom height adjustment. That allowed the motor to be raised and lowered in relation to the water line. It became obvious that this bracket helped the situation but had to be adjusted manually and could not be positioned correctly for all driving conditions. He began working on a hydraulic system that could be fitted to a similar but modified bracket. It was comprised of a 12VDC hydraulic pump, hydraulic cylinder and hydraulic lines connecting the pump and cylinder. Finally a unit was built that was remotely adjustable with a switch from the cockpit while the boat was underway. The new invention solved the performance problems and soon drew attention. In 1981 plans were made to introduce the item to the marine market. A patent was applied for shortly thereafter and production plans began after receiving Patent Pending status.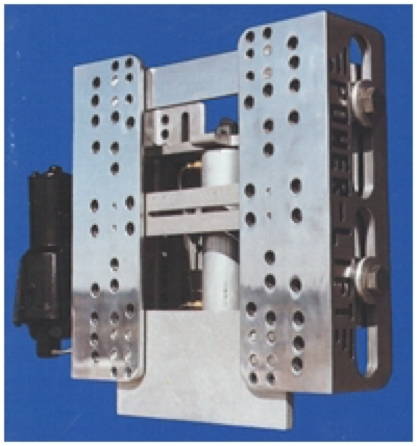 CMC PL-65 Power-Lift patented in 1984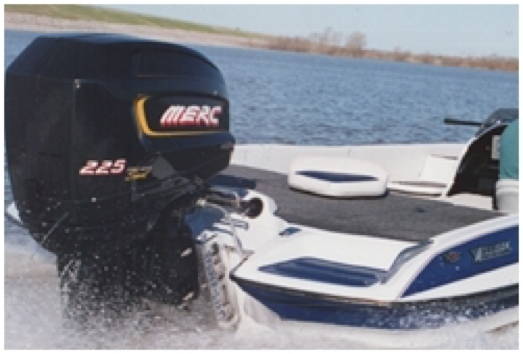 CMC PL-65 Power-Lift on boat 1985
The unit was named CMC Power–Lift and became the first production hydraulically adjustable transom bracket or "jack plate". In 1982 Greg and Debbie Cook founded Cook Manufacturing Corporation with the intent to produce the Power-Lift and develop other related marine products. At that time CMC manufactured all parts for the Power-Lift except the hydraulic power unit which was supplied by an outside vendor. A U.S. patent for the Power-Lift was granted in 1984.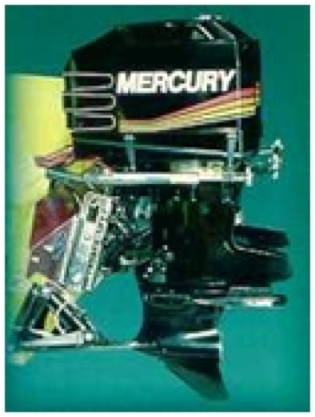 PL-65SS Power-Lift racing application 1988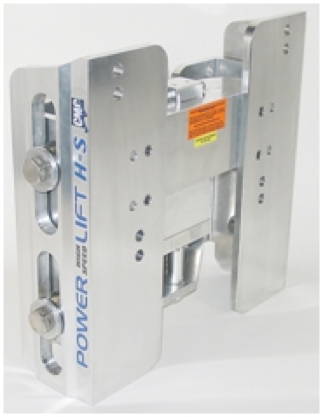 CMC PL-65 H/S High Speed Power-Lift 2008
Early vintage N/C and CNC machines used tape readers to deliver programs to their controls via punched tape. With several N/C and CNC machines in operation at CMC and many new products to be produced, part program storage and blueprint control was becoming an issue. In 1984 Greg set out to design a P.C. based system, a special add on board and write software that would electronically emulate the tape reader and load programs directly to the NC/CNC without punched tape. This is called B.T.R. (behind tape reader). The system could also deliver programs via RS-232 serial communication (DNC direct numerical control) and featured full screen part program store and edit. CAD drawings could be accessed and viewed on the screen along with the part program. This eliminated paper drawings and punched tape on the shop floor insuring that operators only had access to the latest revisions. These features were a very advanced improvement for those controls in that day and time.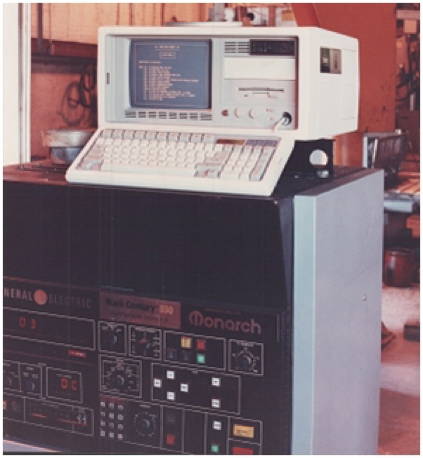 Tape Twin installed on 1978 General Electric 550 N/C control 1985
The system worked well and improved CMC production and efficiency. At that time there were no plans to market the system. After some encouragement from visitors to the plant, the system was introduced to the market as the Tape Twin System. Greg also submitted a U.S. Patent and Copyright application for the system. Shortly thereafter he received a U.S. Copyright for the software along with patent pending status. In the years that followed more than 300 interfaces were designed and built for different controls and tape readers. The system was used by many manufacturers including Wheatley-Gasso, General Automation, American Airlines, General Electric and Tinker Air force Base. The U.S. patent for the Tape Twin System was granted in 1990.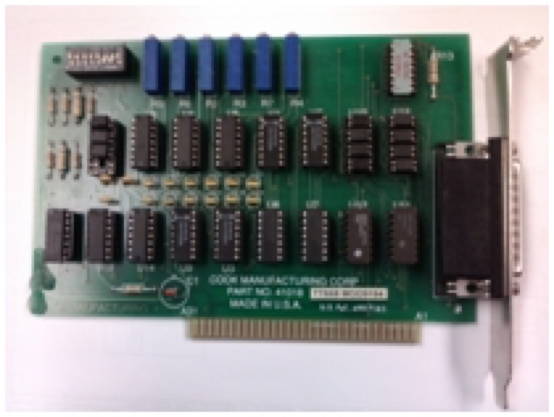 CMC 41018 Tape Twin Emulator Board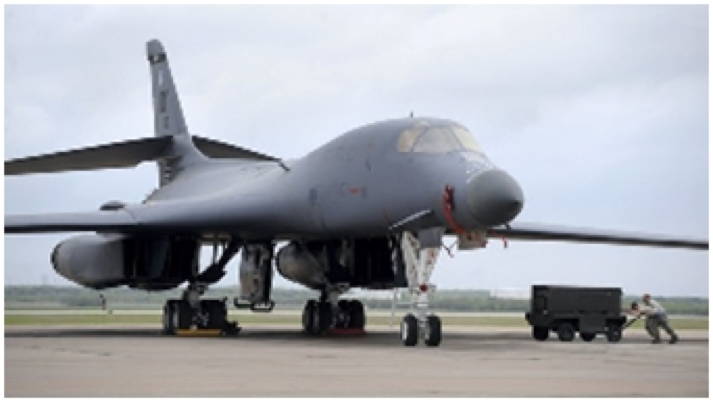 Tape Twin System runs diagnostics on Boeing B1 Bomber 1980's
In 1986 CMC received a request from a golf car distributor to design a removable golf car cover for winter use. After several months a design was presented and plans to market the cover began. The cover was called the CMC Weather Cheater and Greg was granted a U.S. patent for the cover in 1987. Covers were designed for five different golf car models and the item was sold in the U.S. and Canada. Weather Cheater tooling and patent rights were sold in 1988.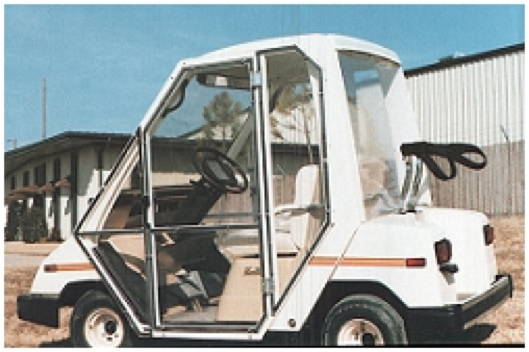 Weather Cheater installed on Yamaha Sun car 1986
In 1990 Greg began designing a hydraulic power unit to replace the outsourced unit being used at the time. After development, testing and receiving patent pending status the unit was put into production in 1991. It used an outsourced motor and was called the model DCH-2500 hydraulic pump. A U.S. patent was granted for the unit in 1993 In 1995 CMC began winding the armatures and producing their own motors. This expanded capacity enabled CMC to produce all of their products in house.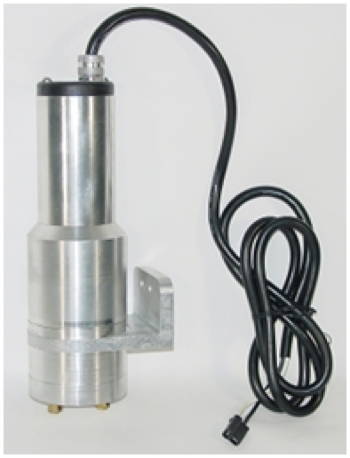 The DCH-2500 Hydraulic pump 1991
In 1991 Rick Presley (V.P. sales/marketing) sensed a need in the market for a reliable after market tilt & trim unit. After favorable research and testing was completed CMC introduced the PT-130 Tilt & Trim in 1992. Greg designed the new unit to utilize the same hydraulic pump, cylinder and structural expertise used in the Power-Lift. It was an instant success and became the market leader in aftermarket tilt & trims. The PT-130 is rated for 130 HP and smaller outboard motors.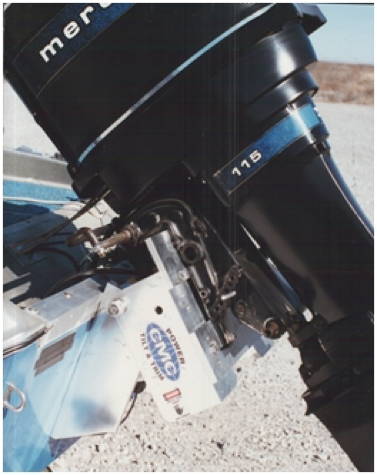 CMC PT-130 Tilt & Trim 1992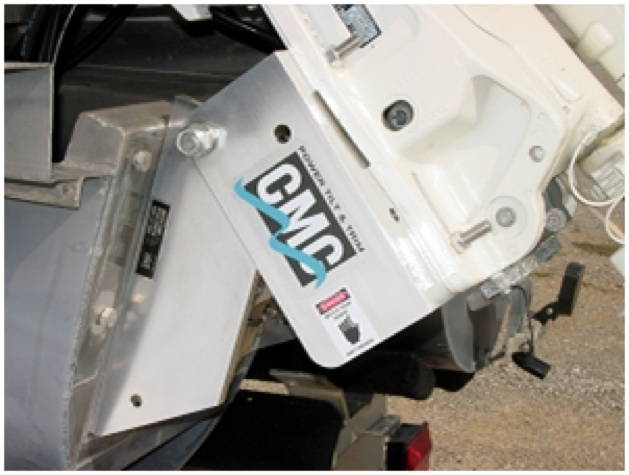 CMC PT-130 with 7050 actuator 2001
In 1997 Greg designed and developed a one-piece hydraulic actuator. This unit incorporated the pump, motor, cylinder and reservoir into one compact saltwater proof package that would fit into all CMC hydraulic products. It would eliminate the need for hydraulic lines and extra room for mounting the pump separately from the cylinder. The actuator became patent pending and CMC began production the same year. The model 7050 actuator quickly became the standard power unit for all CMC hydraulic marine products. The actuator is rugged, very versatile and is made in 5", 8", 10" and 12" stroke lengths. It is sold independently in the industrial hydraulic market for any application that needs water proof portable 12VDC powered actuation. The U.S. patent for the actuator was granted in 2003.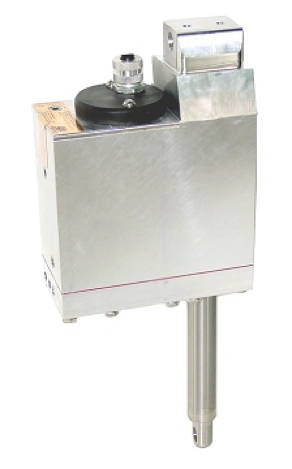 CMC model 7050 hydraulic actuator 1997
In addition to marine products, the CMC hydraulic actuator has been used in many industries on a diversified range of applications. These include offshore oil exploration, utility truck bed lift systems, trailer lifting and leveling, aircraft towing and air compression.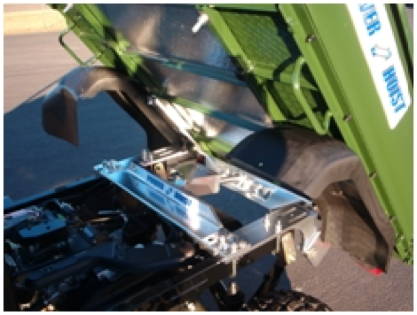 CMC hydraulic actuators in various industrial applications.
The advent of the 7050 hydraulic actuator led to development of the PT-35 Tilt & Trim unit in 1999. The PT-35 is a smaller lighter version of the CMC PT-130 Tilt & Trim and features the one piece 7050 hydraulic actuator. It is rated for 35 HP and smaller motors. The PT-35 joined with the PL-65 and PT-130 continuing to make CMC the world leader in hydraulic jack plates and tilt & trims.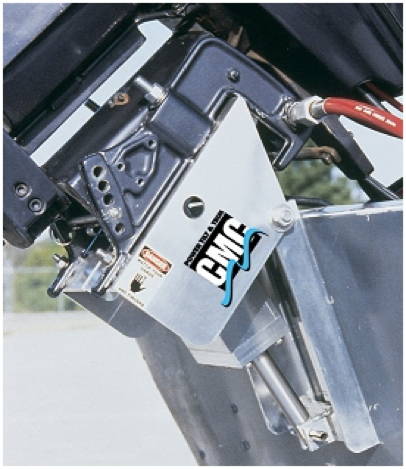 CMC PT-35 Tilt & Trim 1999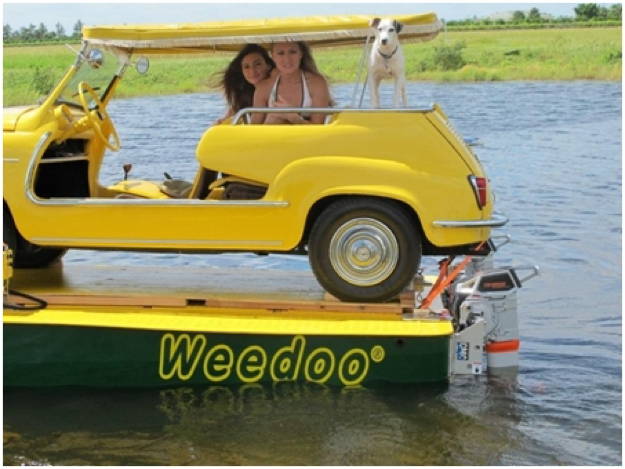 CMC PT -35 with electric outboard motor
In 2000 Greg began designing a hydraulically powered retractable ladder for pontoon boats and other platform applications. It also utilized the 7050 hydraulic actuator for its power unit. Its function was to deploy using a remote switch as a full ladder with extended handles then retract and collapse inconspicuously under the platform. After patent pending status was attained production began in 2002. The unit was named the CMC Power Ladder and its U.S. patent was granted in 2004.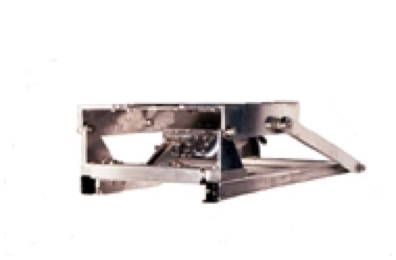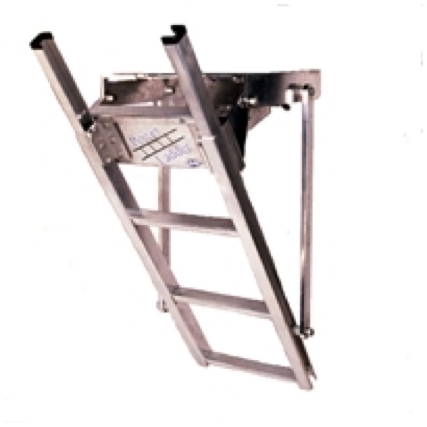 CMC Power-Ladder 2001​​​​​​​
In 2001 Cook Manufacturing Corp. was acquired by Marine Accessories Corporation of Maryville, TN and became one of seven divisions under that company. All management and staff remained with the company and CMC continued to grow. In 2003 a universal wake board tower and accessories including a dual wakeboard rack was developed and produced. The tower was introduced to the market as the Typhoon Tower along with wake board racks and speakers.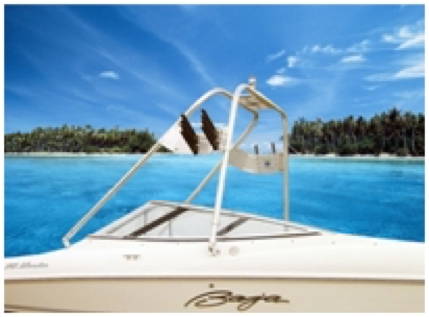 CMC Dual Wakeboard Rack 2003
CMC Dual Wakeboard Rack 2003
In 2008 Cook Manufacturing Corp. was acquired by T-H Marine Supplies Inc. of Huntsville, AL. The division is now called CMC Marine, Inc. In cooperation with T-H Marine, and still under the leadership of Greg Cook and his management team, CMC Marine continues to develop and manufacture jack plate, tilt & trim and hydraulic product lines along with other new quality marine and industrial products. These products include the Twist Step emergency boarding ladder, Atlas Micro-Jacker, Z-Lock and Hydro Jacker jack plates.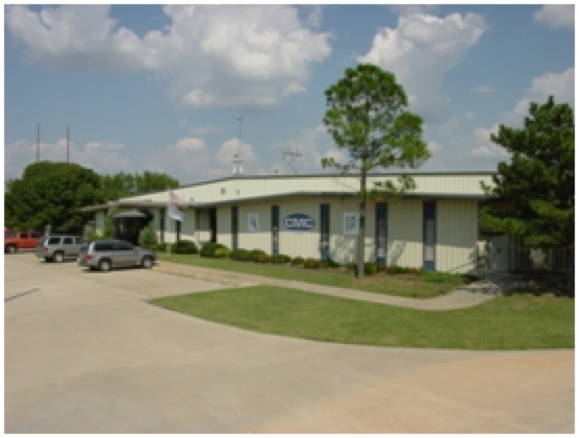 CMC Marine, Inc. 42,000 sq. ft. facility in Duncan, OK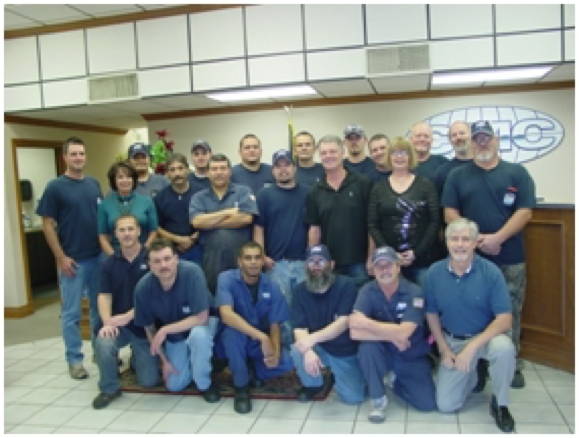 The CMC team has several members with 20+ years at company