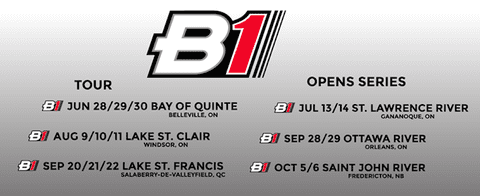 T-H Marine Signs Two-Year Partnership with B1 Fishing Events
Brossard, QC – November 1st, 2018 – T-H Marine Supplies, Inc., of Huntsville, Alabama, announces it has entered into a two-year deal with B1 Fishing of Canada. The deal includes prominent exposure for T-H Marine brands like Atlas and BlueWater LED lighting and furthers B1's commitment to conservation with brands like G-Juice, the Oxygenator, and G-Force.
T-H Marine is also contributing to the B1 prize offering as all B1 events will now be qualified for the Atlas Awards program. With Atlas Awards, anglers can sign up for $29.99 per year and benefit from thousands of dollars in potential prizes simply for choosing to fish with select T-H Marine products (see thmarine.com/atlas-awards for complete details).

"The B1 series of events represents the premiere level of competitive fishing in Canada and we are thrilled to be a partner," said Shana Ramsey, T-H Marine Sponsorship and Pro-Staff Manager. "We want to support the sport at the highest level and we are especially encouraged by B1's commitment to fish care."

As part of a renewed dedication to conservation, all B1 events will be puncture free beginning in 2019. This means that only non-piercing culling tags will be permitted to manage fish in livewells. In conjunction with the use of G-Juice fish care solution and the Oxygenator dissolved oxygen panels throughout the entire fish management system, the B1 will continue to practice the best available methods for proper live-release moving forward.

# # #
About B1 Fishing
Canada's premiere competitive bass fishing series featuring two unique series - TOUR and OPENS - with a total of six events in 2019. For more information about B1 Fishing Events, please visit www.fishb1.com.
About T-H Marine 
T-H Marine is celebrating its 43rd Anniversary of business and has grown to be one of the largest manufacturers of boating and fishing accessories in the U.S. T-H Marine provides parts to virtually every boat manufacturer in the country and distributes them through virtually every major distributor and retailer of boating and fishing products. To learn more about T-H Marine, please visit www.thmarine.com/about-us.

B1 Fishing Events
Email: info@fishb1.com
Toll Free: 1.877.300.8783

***
B1 Fishing 2019 Registrations Closed