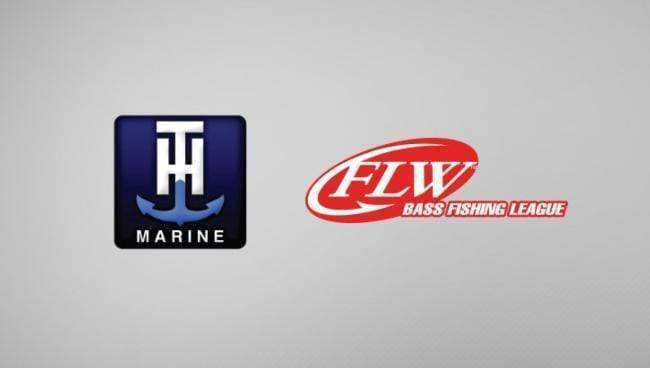 T-H Marine Expands Fishing League Worldwide Partnership
In case you missed it, we are partnering up with Fishing League Worldwide (FLW) in a big way. We're extending our current partnership with FLW, entering into a multi-year agreement, and expanding our involvement with FLW tournaments. 
Honestly, it's pretty exciting to work even more with the FLW team and all the great anglers who take part in what FLW has to offer. We're pumped to introduce our products to more people who love being out on the water and we're humbled to be one of four title sponsors to take on such a role with FLW.
Scroll down to read the full press release.
FLW AND T-H MARINE ANNOUNCE EXTENSION OF PARTNERSHIP IN MULTI-YEAR DEAL
MINNEAPOLIS (May 29, 2018) – Fishing League Worldwide (FLW), the world's largest tournament-fishing organization, today announced the renewal of its global partnership with T-H Marine via multi-year extension, in which the industry-leading manufacturer of thousands of boat parts and accessories will continue to serve as the title sponsor of the Bass Fishing League (BFL) as well as the official weigh-in bag, fish care provider (G-Juice Live Well Treatment) and jack plate provider for FLW.
"We are thrilled to renew our global partnership with T-H Marine, a world-class brand and core sponsor that perfectly aligns with FLW," FLW President of Marketing Trish Blake said. "The long-term partnership exemplifies the buying power and marketability that professional bass-fishing fans offer. We've always considered our core FLW audience to be among the most loyal and passionate consumers in the country, and we are proud to partner with industry leaders such as T-H Marine to feature brands that share FLW's unmatched commitment to its fan base and advancing the sport."
As part of this extension, T-H Marine will continue as title sponsor of the FLW Bass Fishing League, and the brand will be prominently featured across all of FLW's platforms, including its tournaments and Expos, websites and social media content, FLW Bass Fishing magazine and the "FLW" television show, broadcast internationally to more than 564 million households, making it the most widely distributed weekly outdoors-sports television show in the world. The two brands will also work in conjunction on retail promotions during FLW tournaments and Expos in select markets.
"With a worldwide platform of tournaments and opportunities to learn about fishing, FLW does an exceptional job at getting people interested and involved," said Greg Buie, Vice President of Sales and Marketing at T-H Marine. "We love that commitment to the future of fishing and we are excited to continue and grow our partnership."
The T-H Marine logo will also remain prominently located on the FLW weigh-in stages and equipment trailers, as well as the jerseys of its sponsored FLW anglers. This current list of sponsored anglers includes: Forrest Wood Cup Champions Anthony Gagliardi (2014) and Justin Atkins (2017), Angler of the Year winners Bryan Thrift (2010, 2017) and Andy Morgan (2013, 2014, 2016), FLW Tour event winners Mark Rose, Larry Nixon, Matt Arey, J.T. Kenney and Jason Lambert, and many more accomplished anglers that compete at the sport's top level on the FLW Tour.
As part of the sponsorship agreement, T-H Marine will continue to offer FLW anglers the Atlas Awards contingency programs for anglers competing in the YETI FLW College Fishing, BFL, and Costa FLW Series along with other sanctioned events. T-H Marine will award cash prizes to Atlas Awards members who are the winners or highest qualifying finisher of sanctioned events if he or she is the owner of certain T-H Marine products. For additional details on the Atlas Awards contingency program and a complete list of official rules and eligibility requirements, visit THMarine.com/atlas-awards.
For more information on T-H Marine, the entire T-H Marine lineup of marine parts and accessories or to locate an authorized T-H Marine distributor, please visit THMarine.com. For more information about FLW, their tournaments and sponsors, visit FLWFishing.com.
About FLW
FLW is the world's largest tournament-fishing organization, providing anglers of all skill levels the opportunity to compete for millions in prize money in 2018 across five tournament circuits. Headquartered in Benton, Kentucky, with offices in Minneapolis, FLW and their partners conduct 286 bass-fishing tournaments annually around the world, including the United States, Canada, China, Italy, South Korea, Mexico, Portugal, South Africa and Spain. FLW tournament fishing can be seen on the Emmy-nominated "FLW" television show, broadcast to more than 564 million households worldwide, while FLW Bass Fishing magazine delivers cutting-edge tips from top pros. For more information visit FLWFishing.com and follow FLW at Facebook, Twitter, Instagram, YouTube and Snapchat.
About T-H Marine
T-H Marine is celebrating its 43rd Anniversary of business and has grown to be one of the largest manufacturers of boating and fishing accessories in the U.S. T-H Marine provides parts to virtually every boat manufacturer in the country and distributes them through virtually every major distributor and retailer of boating and fishing products. To learn more about T-H Marine, please visit www.thmarine.com.
# # #
MEDIA CONTACT:
JOSEPH OPAGER
FLW DIRECTOR OF PUBLIC RELATIONS
o: 612.337.1989 c: 218.434.0748
e: joseph.opager@flwfishing.com
twitter: @joeopager
www.flwfishing.com