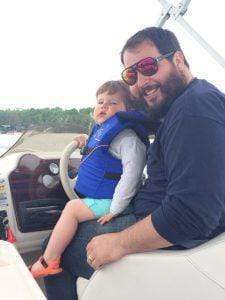 T-H Marine Adds Derek Trovillion as Director of Digital Marketing
Huntsville, AL – July 5, 2017 – T-H Marine Supplies, Inc., of Huntsville, Alabama, announces that Derek Trovillion has joined the company as the Director of Digital Marketing. Derek will lead strategy and management of the company's digital presence including the company's websites, advertising, online promotions, content management, and social media.
Before joining T-H Marine, Derek worked in various capacities in the world of marketing and communications. This included roles in journalism, copy-editing, outreach and event planning, content marketing, advertising campaign management, and social media management. Most recently, while working for several years at a marketing agency, Derek became closely involved with T-H Marine's content marketing, advertising, and overall digital strategy. As the company grew, it was a natural fit for Derek to put his passion for the outdoors to work.
"I have loved fishing and boating and getting outside my whole life, so I'm very excited for this opportunity," said Derek Trovillion. "I look forward to working with the awesome team at T-H Marine even more, promoting the company's expansive product list, innovating and building upon what we have to offer, and connecting with audiences who love to get out on the water."
"With Derek driving our digital presence, I am excited about how we can strengthen our connections with existing customers online and how we can reach new customers, too," Jeff Huntley continued. "We know it is essential to have a strong digital presence for the growing list of products we are excited to promote. We look forward to the opportunity this presents for growing our new brands online including the Aqua-Blaze™ LEDs, our expanding line of HydroWave™ units, our KVD KONG™ mounts, the Tackle Titan™, and Z-launch™. And, of course, we will continue to promote our industry standards like the ATLAS™ Hydraulic Jack Plate, our G-Force™ products, G-Juice™, the Hot-Foot™, and the Oxygenator™."
# # # # #
T-H Marine is celebrating its 42nd anniversary of business and has grown to be one of the largest manufacturers of boating and fishing accessories in the U.S. T-H Marine provides parts to every boat manufacturer in the country and distributes them through virtually every major distributor and retailer of boating and fishing products. To learn more about T-H Marine, please visit http://thmarine.com/about-us.
# # # # #
For More Information About Derek Trovillion's Role as Director of Digital Marketing at T-H Marine
If you would like more information about Derek Trovillion and his role as Director of Digital Marketing at T-H Marine, please use the contact information provided below.
T-H Marine Supplies
Contact: Derek Trovillion
Email: dtrovillion@thmarine.com
Phone (FOR MEDIA ONLY): 317-517-5435
For all customer service-related matters, please call (256) 772-0164 (Monday-Thursday 7am to 5pm CT) or visit us anytime at thmarine.com/help