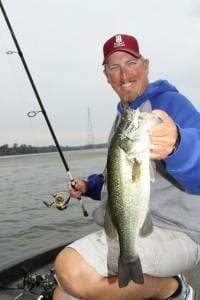 Jimmy Mason Joins T-H Marine as Director of Marketing
Huntsville, AL – January 7, 2016 -- T-H Marine Supplies, Inc., of Huntsville, Alabama, announces that Jimmy Mason has joined the company as the Director of Marketing. Jimmy will manage all aspects of marketing, including advertising, marketing materials, promotions, website, social media, tournament sponsorship, and professional angler sponsorship.
T-H Marine's president and CEO, Jeff Huntley, said, "We are extremely excited to have Jimmy join our team. This guy is a true angler and boater, and one heck of a promoter. Jimmy has been a professional fisherman, fishing guide, and industry promoter for over 25 years. He has earned the respect of all of the media outlets and professionals. We are glad that we can put that experience behind the growing brands of T-H Marine."
"I am excited to join the team at T-H Marine," said Jimmy Mason. "I have worked with them over the past several years as an angler and have got to know a lot of the team. I always respected their innovations and teamwork. I look forward to working to increase the exposure and sales of all our brands and products."
T-H Marine's Huntley also stated "With Jimmy managing all of our marketing programs, I can't wait to see the growth in our new brands like Aqua-Blaze™ LEDs, HydroWave™, KVD KONG™, Tackle Titan™, and Z-launch™, as well as our industry standards like ATLAS™, G-Force™, G-Juice™, Hot-Foot™, and Oxygenator™."
T-H Marine is celebrating its 40th Anniversary of business and has grown to be one of the largest manufacturers of boating and fishing accessories in the U.S. T-H Marine provides parts to every boat manufacturer in the country and distributes them thru virtually every major distributor and retailer of boating and fishing products. To learn more about T-H Marine, please visit www.thmarine.com/about-us.
#  #  #  #  #
For More Information About Jimmy Mason's Role as Director of Marketing at T-H Marine
If you would like more information from Jimmy Mason about his role as Director of Marketing at T-H Marine, please use the contact information provided below.
Contact: Jimmy Mason
Phone: 256-772-0164
Email: jmason@thmarine.com