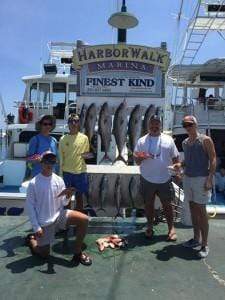 Going Deeper With Fishing and Boating Equipment
Today is the perfect day to celebrate how there is an undercurrent with what we do that goes deeper than the fishing and boating equipment itself. And although the equipment and the business of it all are very much tied to our vocation, it goes beyond tangible items like that.
It's National Hunting and Fishing Day and we're hoping the legacy is strong with every reader who comes to this blog post. Of course, there are many ways to celebrate and many ways to keep the legacy going, so we're reflecting on the essentials that made it special for us and asking you to share your story as well: what makes it special for you?
Even When the Fishing, Hunting, and Boating Equipment Changes
We can't help but think of where it all started with us: family fishing trips and hunting trips. While the hunting, fishing, and boating equipment may have changed over the years, the spirit of it all remained the same. In fact, every outing involved these three key elements:
Getting outdoors

 

- Which often times meant being out in less than ideal weather. That just built character, after all!
Safety

 

- With the consequences as a result of missing the mark on safety, this was the best way to make sure the experience wasn't spoiled.
Community - Even a slow day fishing and hunting is better than a day in the office, especially when you're with others enjoying it, too.
All of those elements gave and continue to give great opportunity for getting some peace, building some memories, and enjoying the surroundings that God gave us. You could go with family, you could go with friends, or even invite a co-worker or neighbor. You could have top-of-the-line boating equipment, or you could be shore fishing. It didn't matter too much. For many of us, we had a mentor showing us the way and now we can play that role ourselves. Take pride in that opportunity!
So how are you celebrating today, or better yet, observing this day throughout the year? Together we can make sure that we thank those who shared the hunting and fishing experience with us and we can take pride in doing the same for the next generations of men and women who appreciate the outdoors.