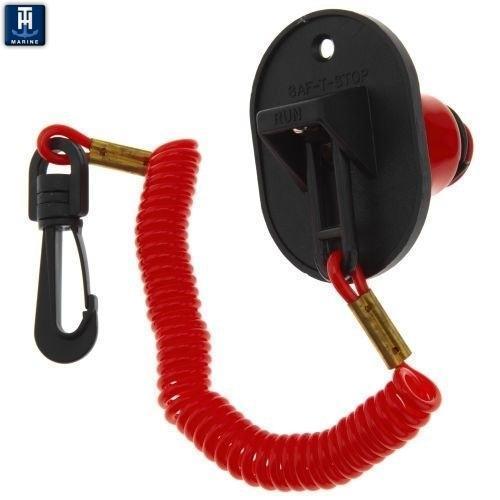 Get the Facts: New Coast Guard Law Requiring Engine Cut-Off Switch
Boaters everywhere are talking about a new coast guard law requiring engine cut-off switch use, but many comment threads are full of opinions and half-truths muddying the waters. We're here to make sure more boaters have accurate information and access to the marine safety products that help protect you from danger and keep you enjoying the water.
New Coast Guard Law Requiring Engine Cut-Off Switch — Background Info
As of April 1, 2021 (no fooling there, that is the actual date), the U.S. Coast Guard is implementing a law passed by congress requiring the use of an engine cut-off switch (ECOS) (the part that is often installed on the console, near the steering wheel on many boats) and an associated ECOS link (the lanyard or coil connecting you to the ECOS). This applies to operators of motorized recreational vessels meeting the specifications outlined farther down in this article. This law follows the laws passed in 2018 that required manufacturers to install them on boats of certain lengths and engine capacities.
When used properly, the ECOS and ECOSL prevent the boat engine from continuing to run when the operator is displaced from the helm. In turn, the boat is limited in its ability to run away without the operator controlling it and limited in its ability to cause harm to the operator, the occupants, and others sharing the water.
Wireless units (often called fobs) have been developed and are approved for use as well, but whatever system you use, this new law requires that they are used and used properly. 
According to Coast Guard News, these safety devices have tremendous potential for impact:
"Each year the Coast Guard receives reports of recreational vessel operators who fall or are suddenly and unexpectedly thrown out of their boat. These events have led to injuries and deaths. During these incidents the boat continues to operate with no one in control of the vessel, leaving the operator stranded in the water as the boat continues on course, or the boat begins to circle the person in the water eventually striking them, often with the propeller. These dangerous runaway vessel situations put the ejected operator, other users of the waterway, and marine law enforcement officers and other first responders in serious danger."
State Laws About Engine Cut-Off Switch Usage
As of the publishing date of this post, seven states have ECOS use laws for traditional recreational vessels (Alabama, Arkansas, Illinois, Louisiana, Nevada, New Jersey and Texas), and 44 states have ECOS use laws for personal watercraft (PWC) (only Alaska, Hawaii, Idaho, Maine, New Hampshire, and Utah do not). However, it is a safe bet that all states will be adopting these federal laws in the coming years.
Specifications Written Into the New Engine Cut-Off Switch Law
According Section 8316 of the new law (known as the National Defense Authorization Act of 2021), as well as many state laws, you are required to use ECOS links under the following conditions:
You are traveling a federally navigable waterway (this includes seas, oceans, and large rivers and lakes) OR your state already requires you to use ECOS and ECOSL
Your vessel is less than 26 feet in length
You are running an engine that is capable of 115 lbs. of static thrust - 3 HP or more
The primary helm of your vessel is not within an enclosed cabin
There are also common situations where ECOSL would typically not be required though, and those include situations like docking/trailering, trolling, and operating  lawfully in no-wake zones.
Be sure to check the U.S. Coast Guard website, including their handy FAQ page, for more information on this new use requirement and other safety regulations and recommendations.

You can also visit our Boating Safety Products Collection to view our assortment of safety products, including those that you need to use in order to comply with these new regulations. 
New Coast Guard Law Requiring Engine Cut-Off Switch — T-H Marine Products that will help you comply with these regulations boat safely: