Throughout the year, the T-H Marine Blog will feature guests posts from the perspective of anglers who use T-H Marine products on the water. This installment features Jared Trimboli, an up and coming angler from New York, reviewing the G-Force Trolling Motor Handle. Jared will be fishing the PAA, Bassmaster Opens and FLW Everstart Series tournament trails in 2013, and you can follow his progress throughout the year and learn more about Jared from his website.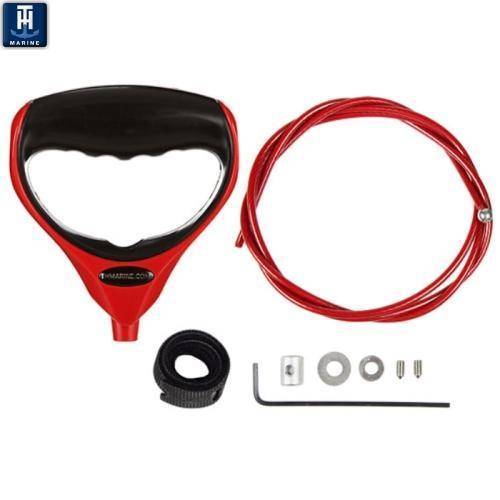 So the past few weeks I have been enjoying sunny Florida. I certainly can't complain as yesterday, New York was hit but a record amount of snow. I certainly have no urge to return to any of that. Anyway, I finally had a chance to try out a new product this year for TH Marine which is...
the G-Force Handle. No, I'm not talking about a new light-saver which Obi-Wan now uses; I am talking about a new twist and design to a standard trolling motor release and lift system. I unfortunately have been through one of the many feared situations in a tournament scenario; your trolling motor rope and/or handle breaks! Luckily the couple times it happened to me I had extra rope in my boat. But many anglers do not think ahead like that and when the rope breaks, it's a bad day to be a fisherman.
So, what exactly is different about the G-Force Handle? It is in simple terms, a replacement to the standard stock trolling motor rope and handle except with a few major twists. First, the release and lift system is made with rugged, nylon jacketed stainless steel cable. This is a HUGE change as normal trolling motor ropes are well, cheap ropes. Now with the nylon jacketed stainless steel cable, this system is never going to impact break. Second, the G-Force Handle has an awesome large rubber-gripped handle which also spins 360 degrees for easy pickup in any position. Third, It comes in a couple different color options which I think is pretty cool; I have the red one.
This system comes complete with everything you need to replace ANY, yes any stock lift/release system on either a MotorGuide or MinnKota motor. Install takes a quick 10 minutes. I didn't believe it at first but then once I received mine and the directions were a half-page long, it was one-two-three especially for someone like myself who can just squeeze by hammering a nail into a piece of wood. If you don't believe me, you can watch one of the install videos on YouTube, like this one.
Just finishing up the Bassmaster Southern Open at Lake Toho, I noticed tons of boats having the new G-Force Handle installed. It is a reasonably priced and a guaranteed way to eliminate one of the many fears which could happen come tournament day.
So what are you waiting for? Shop T-H Marine or visit your favorite retailer to order or see more information regarding the new G-Force Handle!