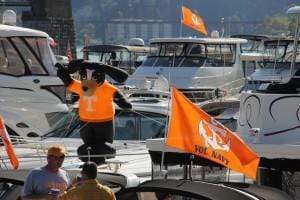 Football Season Brings Return of Sailgating
With college football making its return soon, many people will leave their boats in the driveway and change their weekend plans to include the great tradition of tailgating. While most people tailgate on dry land, there are some fan bases that have the opportunity to tailgate in a different and unique way, and they definitely take full advantage.
A new twist on tailgating came about in the late 60's when Tennessee football announcer George Mooney got fed up with game day traffic heading to Neyland Stadium and opted instead to travel to the stadium by boat. Several fans and even some local newspapers took notice, sparking a new tradition in game day travel. It has expanded over the years to be not only a way to the game, but a unique experience in tailgating, or sailgating, as some like to call it.

The Vol Navy prepares for another SEC Saturday
T-H Marine Sales Manager Luke Dunkin has experienced sailgating with the Vol Navy for many years and says there is no better way to prepare for a big game. "It's definitely different than anywhere else, but for someone like me who loves being on the water it couldn't be a cooler atmosphere. It's not like tailgating on dry land at all, there's less room to move around but that just means you make friends faster. And everyone gets a good laugh when someone falls in the water, that happens sometimes" he laughs as he recalls.
Some members of the Vol Navy come in from as far away as Chattanooga, taking the Tennessee River the whole way. "Coming in from a distance by boat is definitely the best way to do it. I've come from Watts Bar and Chattanooga before to catch a game. Sure it's not the fastest, but there's no way I would rather take," says Dunkin.
Several other college teams offer the opportunity to sailgate, and for some it's a brand new tradition. Baylor's newly constructed McLane Stadium borders the Brazos River and offers 16 slips for football fans to lease on game day. If the idea gains popularity then there's the chance for more slips to be added and a new tradition to be born.
Another school with arguably the longest history of sailgating is the University of Washington. According to their website, sailgating has been a tradition for 50 years and ostensibly claims to be the premier spot for the activity in the college football landscape. A recent renovation of their stadium and an increased push for the boating to the game movement has helped this tradition regain its luster in the past few years. Husky Harbor serves as the main spot to take in a game by water, with plenty of room and amazing views of the stadium. On the West coast their tailgate environment is unrivaled thanks to the growing sailgating trend.
No matter your college football allegiance, every avid boater should add the experience of sailgating to their bucket list. There's simply no better way to combine two of the most fun escapes into one amazing activity filled with friends, food and football.