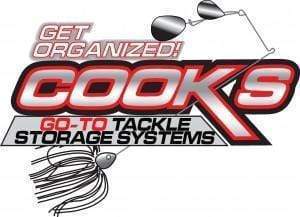 Cook's Tackle Storage System Product Line Coming to T-H Marine
Huntsville, AL – January 22, 2016 -- T-H Marine Supplies, Inc., of Huntsville, Alabama, and Cook's Tackle Systems of Jonesboro, Arkansas, announce they have entered into an agreement that grants T-H Marine exclusive global rights to manufacture and distribute the Cook's Tackle Storage System product line. Financial terms of the deal were not disclosed.
T-H Marine's president and CEO, Jeff Huntley, said, "Once again we are very happy to announce our acquisition of the rights to another really unique product line. The Cook's Go-To Tackle Storage System is a great product that really fits into our growing line of tackle storage solutions. We are launching an entirely new brand of products called TACKLE TITAN™ this year. The Cook's Go-To Tackle Storage System fits perfectly with this new brand family. We are really focusing on maximizing space in boats and optimizing tackle and tool storage. The Go-To System is phenomenal at making use of the "dead space" underneath the storage lids on any fishing boat – freshwater or saltwater. The system puts your favorite "go to" lures right at your fingertips."
Darrel Cook, owner of Cook's Tackle Systems, stated, "I am very happy to team up with T-H Marine. I am proud that I can hand over this great product, which Leroy Perkins and I designed together, so that they can fully expand the distribution of the Cook's Go-To Tackle System. The Go-To System has been very popular with the many fishermen who have tried it. We just want to get it to the next level so that everyone will be able to learn about it, to get it at their favorite store, or on their favorite boat brand. T-H Marine is passionate about fishing and fishing boats and they will make sure that the Cook's Go-To Storage System is a quality product with excellent customer service."
T-H Marine's Huntley also stated, "T-H Marine is designing, gathering, and reinventing great products to make a fisherman's day on the water more fun, efficient, and safe. This Go-To Tackle System was another invention that we identified through our fishing tournament involvement as a real performer for the few pros that were using it. However, it was not well known or widely distributed.   We will be relaunching it with the other TACKLE TITAN™ products this Spring.  However, the Go-To System is available from T-H Marine effective immediately. This product is already standard equipment on Phoenix Bass Boats and I am confident it will become factory equipment on more brands very soon. We look forward to bringing our manufacturing, sales, and distribution strength to the table with this product so that more fishermen can have easy access to it from their favorite fishing tackle and boating retailers."
#  #  #  #  #
T-H Marine is celebrating its 40th Anniversary of business and has grown to be one of the largest manufacturers of boating and fishing accessories in the U.S.  T-H Marine provides parts to every boat manufacturer in the country and distributes them through virtually every major distributor and retailer of boating and fishing products. To learn more about T-H Marine, please visit www.thmarine.com/about-us. To learn more about the Cook's Go-To Tackle Storage System, click here. To buy it at Tackle Warehouse, click here.
#  #  #  #  #
For More Information About the Cook's Tackle Storage System Product Line
If you would like more information on the Cook's Tackle Storage System Product Line, please use the contact information provided below.
Contact:          Jimmy Mason
Phone:             256-772-0164
email:              jmason@thmarine.com